Van Nostrand's Encyclopedia of Chemistry, 5th Edition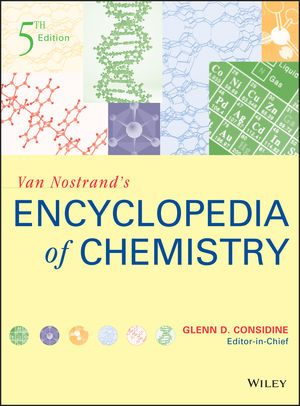 Van Nostrand's Encyclopedia of Chemistry, 5th Edition
ISBN: 978-0-471-61525-5 February 2005 1856 Pages
Description
Scientists, engineers, and technologists in many fields need a knowledge of chemistry because of the importance of chemistry in diverse technologies. In addition, to "classical" topics of chemistry, the new Encyclopedia covers nanotechnology, fuel cell technology, green chemistry, forensic chemistry, supramolecular chemistry, combinatorial chemistry, materials chemistry, and proteomics.

This fifth print edition has been revised and updated, and includes over 200 new articles, as well as 1,300 updated articles.
Cannot be combined with any other offers.
Original Price:$1,011.00
Purchased together:$758.25
save $252.75
Cannot be combined with any other offers.
Original Price:$552.25
Purchased together:$414.19
save $138.06
Cannot be combined with any other offers.
Original Price:$1,073.25
Purchased together:$804.94
save $268.31
Table of contents
Additives (Foods).
Adsorption.
Aerogels.
Amino Acids.
Analysis (Chemical).
Anesthetics.
Antibiotic.
Atom.
Battery.
Biographical Articles Dealing with Prominent Chemists.
Biomass and Wastes as Energy Sources.
Biotechnology.
Blood.
Calorimetry.
Carbene.
Carbohydrates.
Catalytic Converter.
Cement.
Ceramics.
Chemical Elements.
Chemotherapeutic Drugs (Cancer).
Chromatography.
Coal.
Corrosion.
Desalination.
Detergents.
Electroplating.
Enzyme.
Evaporation.
Explosives.
Fertilizer.
Fibers.
Fuel Cells.
Genetic Code.
Hormones.
Immune System and Immunochemistry.
Insecticide.
Insulation (Thermal).
Iron Metals, Alloys, and Steels.
Luminescence.
Natural Gas.
Neutron.
Nuclear Reactor.
Ocean Minerals.
Optical Fibers.
Organic Chemistry.
Papermaking and Finishing.
Petroleum.
Photochemistry and Photolysis.
Pollution (Air).
Polymers.
Radioactivity.
Refrigeration.
Reverse Osmosis.
Rocket Propellants.
Rubber (Natural).
Semiconductor.
Soaps.
Soil Chemistry.
Solutions.
Stereochemistry.
Steroids.
Surface Chemistry.
Sweeteners.
Virus.
Vitamins.
Wastes and Water Pollution.
Yeasts and Molds.
Reviews
"A very comprehensive and thorough quick reference for questions in basic chemistry, the industrial manufacturing process, and medical applications of chemistry…" (
American Journal of Therapeutics
, January/February 2006)
"Any good chemistry collection should have [it]….this work is strongly recommended." (American Reference Books Annual, 2006)
"...remains an essential reference for academic and large public library science collections." (Library Journal, November 2005)
"The latest edition of this well-known, concise, comprehensive, and accessible general chemistry reference work continues its tradition of excellence maintained through almost half a century." (The Chemical Educator, May/June 2005)
"...an awesome compilation of chemistry related topics that is well written and easy to navigate...an appreciable source for background reading and chemistry review…" (American Journal of Pharmaceutical Education, Volume 69, Issue 4, 2005)
"This...popular, standard and critically acclaimed desktop reference source...belongs in personal, institutional, academic, professional and industrial libraries." (The Chemical Educator, Vol. 10, No. 3. 2005)
"...a valuable reference work, concise in its one-volume approach to coverage of chemical topics." (E-STREAMS, August 2005)
"...truly a useful reference-good for both the newcomer and the experienced." (Journal of the American Chemical Society, August 10, 2005)
"More detailed than some rivals...a good choice for libraries supporting a chemistry program...built-in references and an excellent index make 'Van Nostrand' easy to use." (CHOICE, July 2005)
"...remains an essential resource for both students and practitioners...provides much information in a condensed manner." (Energy Sources, June 2005)
"…this volume will prove vital to both the student and the practicing research chemistry…[and] essential to a diverse community of specialists, including medical scientists, engineers and industrial researchers." (Electric Review, April/May 2005)