Essentials of Professional Cooking, 2nd Edition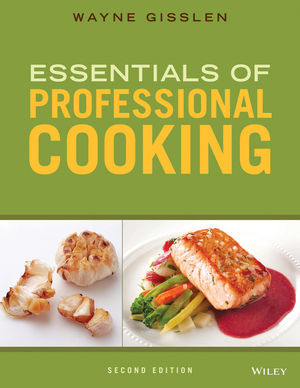 Essentials of Professional Cooking, 2nd Edition
ISBN: 978-1-118-99870-0 May 2015 592 Pages
Description
Essentials of Professional Cooking, Second Edition, focuses on fundamental cooking procedures and techniques, functions of ingredients, and desired results to empower the reader with the keen understanding necessary to prepare virtually any dish to perfection—without relying solely on a recipe. Specially constructed to meet the on-the-job demands of food-service managers, the streamlined approach of Essentials of Professional Cooking, Second Edition, extends the benefits of this material to students and professionals in hospitality management and food-service management.
Table of contents
1: The Food Service Industry
2: Sanitation and Safety
3: Tools and Equipment
4 Menus, Recipes, and Cost Management
5: Nutrition
6: Basic Principles of Cooking and Food Science
7: Mise en Place
8: Stocks and Sauces
9: Soups
10: Understanding Vegetables
11: Cooking Vegetables
12: Potatoes
13: Legumes, Grains, Pasta, and Other Starches
14: Cooking Methods for Meat, Poultry, and Fish
15: Understanding Meats and Game
16: Cooking Meats and Game
17: Understanding Poultry and Game Birds
18: Cooking Poultry and Game Birds
19: Understanding Fish and Shellfish
20: Cooking Fish and Shellfish
21: Salad Dressings and Salads
22: Sandwiches and Hors d'Oeuvres
23: Dairy and Eggs
24: Food Presentation
25: Bakeshop Production: Basic Principles and Ingredients
28: Quick Breads, Cakes, and Cookies
Glossary
Subject Index
Recipe Index
New To This Edition
A new chapter combines common cooking methods for meats, poultry, and fish to sharpen the focus on basic techniques and procedures.  It also provides background, guidelines, and standards of quality for finished dishes. 
Reorganization of the chapters on vegetable cookery ahead of meats and fish – giving the text a smoother, more logical flow.
A new chapter on food presentation and plating is rewritten and newly illustrated for designing modern platings for the range of food-service operations.
Nutritional information is updated with MyPlate guidelines.
Features
Pronunciation Guides and Glossaries: Phonetic guides are included for difficult words, giving the approximate pronunciation using English sounds. Because food-service workers must be able to communicate with each other, definitions of terms introduced in the text are summarized in the glossary at the end of the book.
Illustrations: Hundreds of clear, concise, full-color photographs illustrate basic manual techniques shown from the point of view of the person performing them. Additional photographs illustrate ingredients and finished dishes.
Format: Essentials is designed to be readable and useful. The format emphasizes and highlights key points in bold type, italics, and numbered sequences, so basic information can be located and reviewed at a glance.
Realistic Procedures: Although supported by discussions of cooking theory, procedures given here are based on actual practices in the industry. Attention is given not just to quantity production but also to the special problems of cooking to order. Presentation and service of the finished product are considered in detail, as is pre-preparation, or mise en place—so essential to the organization of a working restaurant. At the same time, the major emphasis is on quality, too often neglected in the quest for convenience.