International Conference on Compressors and Their Systems 2005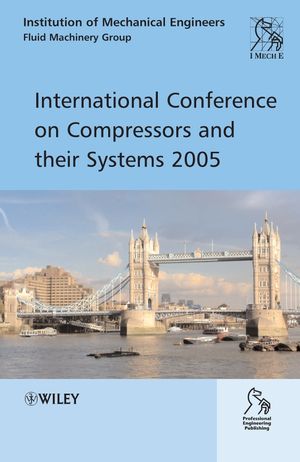 International Conference on Compressors and Their Systems 2005
ISBN: 978-0-470-02576-5 August 2005 584 Pages
Description
Continuing the success of the last International Conference on Compressors and their Systems this essential volume presents a selection of informative papers authored by representatives from 18 countries. This group of worldwide contributors came from a collection of equipment manufacturers, suppliers, users, research organisations and academia.
Compressors and their Systems presents the latest innovations and techniques from experts in this field. A wide range of studies, results of research and industrial applications make up this important volume and cover such topics as:
Scroll, screw, reciprocating, linear and turbo compressors
Modelling
Refrigeration
Operation and maintenance
Expanders
Novel Duties / Compressors
Rotary Vane
Features:
Forms part of the established  IMechE Event Publication series
Contains 54 contributions from leading experts from over 18 countries
Covers the following topics; screw compressors, linear/ novel compressors, novel duties, reciprocating compressors, rotary vane compressors, turbo compressors, refridgeration compressors, refridgeration, scroll compressors, screw machines, turbo machines, and modelling
This excellent title is ideal for practitioners, equipment manufacturers, suppliers, users, and research organizations who wish to be well informed of developments and advances in this important field of engineering.
Table of contents
SCREW COMPRESSORS.
Incorrect contact of screw machine rotors J. Svigler, University of West Bohemia, Czech Republic.
Improving screw compressor performance N. Stosic, I.K. Smith, A. Kovacevic, City University, London, UK; J. Kim, J. Park, Aiplus Co. Ltd, Korea.
Claculation of bearing forces and drive torque of rotary displacement machines K. Kauder, J. Temming, University of Dortmund, Germany.
Indentification of constraints in the optimal generation of screw compressor rotors by the pressure angle method N. Stosic, City University, London, UK.
The development of a hybrid 2 stage micro-turbo/water flooded screw compressor A. Alford, G. Cromm, Corac Group Plc, Uk.
Development of micro-screw compressor K. Venu Modhav, ELGI Equipments, India.
LINEAR/NOVEL COMPRESSORS.
Problems and possibilities of the springless oscillating motor-compressor S. Kudarauskas, R. Didziokas, L. Simanyniene, A. Senulis, Klaipeda University, Lithuania.
Heat and fluid flow in a free piston stirling refrigerator J.W.F. Heidrich, A.T. Prata, Federal University of Santa Catarina, Brazil; D.E.B. Lilie, Empresa Brazileira de Compressores S.A. - EMBRACO, Brazil.
Modeling and simulation of a Pneumatic piston for reciprocating hermetic compressors P.R.C. Couto, A.T. Prata, Federal University of Santa Catarina, Brazil; D.E.B. Lilie, Empresa Brazileira de compressores S.A. - EMBRACO, Brazil.
Development of acoustic compressor using large amplitude waveform obtained in closed tube M.A. Hossain, T. Fujioka, Anest Iwata Corporation, Japan; M. Kawahashi, Saitama University, Japan.
Experimental evaluation of a innovative rotary compressor with variable speed displacers H.J. Kopelowicz, C.E.R. Siqueira, F.L.C. Moutella, H.T. Areas, J.A.R. Parise, Pontifical Catholic University of Rio de Janeiro, Brazil.
Development of small air compressor for mobile fuel cells K. Sawai, A. Sakuda, T. Nakamoto, N. Iida, T. Tsujimoto, H. Fukuhara, H. Murakami, T. Nagata, Matsushita Electric Industry Co. Ltd., Japan; N. Ishii, Osaka Electro - Communication University, Japan.
Design of large scroll compressors C. Ancel, P. Ginies, D. Gross, Danfoss comercial compressors, France.
NOVEL DUTIES.
Heated scroll expander and its application for distributed power source Y.M. Kim, D.K. Shin, J.H. Lee, Korea Institute of Machinery & Materials, Korea.
Operating performance of scroll expander working with water mixed air T. Yanagisawa, M. Fukuta, Y. Ogi, E. Yamada, Shizuoka University, Japan.
The effects of liquid infection on performance of a rotary compressor K.T. Ooi, Nanyang Technological University, Singapore.
RECIPROCATING COMPRESSORS.
Performance evaluation of reciprocating compressor using an engineering tool box P. Grolier, Tecumseh Europe, France.
Oil and inertia A.W. Paczuski, Consulting Engineer, USA; L. Audouy, L'Unite' Hermetique, Unemarque de Tecumseh Europe, France.
A hybrid simulation methodology for reciprocating comprsessors J.B.Rovaris, C.J. Deschamps, Federal University of Santa Catarina, Brazil; F.F.S. Matos, F.C, Possamai, EMBRACO S.A., Brazil.
ROTARY VANE COMPRESSORS.
A comprehensive model of a sliding vane rotary compressor system R. Cipollone, A. Sciarretta, University of L'Aquila, Italy; G. Contaldi, R. Tufano, Ing. Enea Mattei S.P.A., Italy.
Concept of oscillating-roller rotary compressor N. Dreiman, R. Bunch, Tecumseh Products Company, USA.
Research on tip profile of vane for rotary vane compressor C. Hong, L. Liansheng, G. Bei, S. Pengcheng, Xi'an Jiaotong University, P.R. China.
 TURBO COMPRESSORS.
Low specific speed turbo compressors A.J. Vine, W.E. Thornton, K.R. Pullen, M.R, Etemad, Imperial College London, UK.
Early detection of a compressor impeller crack E. Van Deursen, Hoek Loos Linde, Netherlands; G. Hoefakker, Bruel & Kjoer Vibro, Netherlands; P. Surland, M. Hastings, Bruel & Kjoer Vibro, Denmark.
Gas dynamic design of pwerful pipline compressors not based on model tests Y.B. Galerkin, K.A. Danilov, Technical University, Saint Petersberg, Russia.
Increasing in reliability of compressor machines by surface modification of highly-loaded parts E.I. Tesker, S.E. Tesker, V.A. Guriev, Volgograd State Technical University, Russia.
Applying modern design/manufactoring conmcepts in the deveopment of centrifugal air compressors for the global market B. Kolodziej, S. Tackett, Cooper Compression, USA.
REFRIGERATION COMPRESSORS.
Lubrication quality assessment and viscosity measurements in AC/refrigeration compressors A.T. Herfat, Emerson-Copeland Corporation, USA.
Implementation for invW.-R. Chang, D.-Y. Lui, J.-Y. Lin, Y.-C. Chang, Industrial Technology and Research Institute (ITRI), P.R. China.
Thermal and fluid dynamic behavour of a trans-critical carbon dioxide small cooling system: Experimental investigation G. Raush, J. Rigola, C.D. Perez-Segarra, G. Raush, A. Oliva, Universitat Politecnica de Catalunya (UPC), Spain.
REFRIGERATION.
Perspectives on the performance of carbon dioxiide compressor in a light commercial refrigeration appliance R.A. Maciel, R. Maykot, G.C. Weber, EMBRACO S/A - Empresa Brasileira de Compressores, Brazil.
Compression effieciency in transcritical CO2 applications J. Suss, Danfoss A/S, Denmark.
Compressors for carbon-dioxide refrigeration systems A.B. Pearson, Star Refrigeration Ltd, UK.
An economizer cycle for A/C applications M.F. Taras, Carrier Parkway, USA.
Determination of the thermodynamic feedback of the shell of a small hermetic piston compressor R.A. Almbauer, Z. Abiden, A. Burstaller, Graz University of Technology, Austria.
FEA aided discharge tube design for hermetic reciprocating AC/R compressors part 1: Determination of discharge tube FEA boundary conditions J. Chen, Emerson Climate Technologies, USA.
FEA aided discharge tube design for hermetic reciprocating AC/R compressors part 2: Design and evaluation of discharge tueb based on FEA J. Chen Emerson Climate Technologies, USA.
SCROLL COMPRESSORS.
Novel vapor injection method for scroll compressors A. LIfson, Carrier Corp, USA.
A systemn for the documentation of feature variation and its effect on scroll compressor design J. Sauls, Trane, USA.
Gas leakage in CO2 and R22 scroll compressors and its use in simulations of optimal performance T. Oku, K. Yasuda, N. Ishii, Osaka Electro-Communication University, Japan; K. Anami, Ashikaga Institute of Technology, Japan; C.W. Knisely, Bucknell University, USA; K. Sawai, K. Sano, T. Morimoto, Matsushita Electric Industrial Co. Ltd, Japan.
Development of R-410A scroll compressor used with brushless DC motor control Y.-C. Chang, A. Huang, K.-Y. Liang, ITRI, Taiwan; C.-H. Tseng, National Chiao Tung University, Taiwan.
Comparative study of the impact of the dummy port in a scroll cpmressor M.M. Cui, TRANE Air Cinditioning, USA.
SCREW MACHINES.
Clearance management in multifunctional screw machines A. Kovacevic, N. Stosic, I.K. Smith, E. Mujic, City University, London, UK.
Noise prediction in screw compressors E. Mjic, A. Kovacevic, N. Stosic, I.K. Smith, City University, London, UK.
Charge changing in screw-type Vacuum pumps - experimental inverstigation and simulation K. Kauder, D. Stratmann, Universitat Dortmund, Germany.
Three-dimentional curvature analysis on screw rotor and its applications H. Kameya, Hitchi Limited, Japan; M. Aoki, Hitachi Industrial Equipment Systems Co. Ltd, Japan; S. Nozawa, Hitachi Air Conditioning Systems Co. Ltd, Japan.
TURBO MACHINES.
About transient torque inpacts on turbo-compressor shafting driven by induction motors on synchronous motors U. Kern, M. Gamm, Atlas Copco Energas GmbH, Germany.
Numerical simulations of flow and particle dynamics within a centrifugal turbomachine A. Ghenaiet, Polytechnic School, Algiers.
The effect of stagger variablility in gas turbine fan assemblies M.J. Wilson, M. Imregun, A.I. Sayma, Imperial College London, UK.
Time transient simulation model and full scale experimental verification for high speed rotor delevitation events with a 1.5 ton supercritical rotor supported by dry lubricated bushing type auxiliary bearings R.R. Shultz, Waukesha Magnetic Bearings, Inc., USA; E. Lucchetta, Waukesha Magnetic Bearings, Inc., UK.
High-speed direct driven turbo blower S. Henneberger, Atlas Copco Airpower n.v., Belgium.
MODELLING.
Numerical and experimental analysis of counterflow and vortex tube M. Andrassy, S. Krizmanic, Z. Virag, University of Zagreb, Croatia.
The virtual cpmpressor and the concurrent engineering environment F. Fagotti, M.G. Dropa de Bortoli, M. Silveira, R. Bosco Jr., EMBRACO-Empresa Brasileira de Compressores SA, Brazil.
Compressor system technology: evolutionary potential and evolutionary limits D. Mann, Systematic Innovation Ltd., UK.
AUTHOR INDEX.