Bullying at School: What We Know and What We Can Do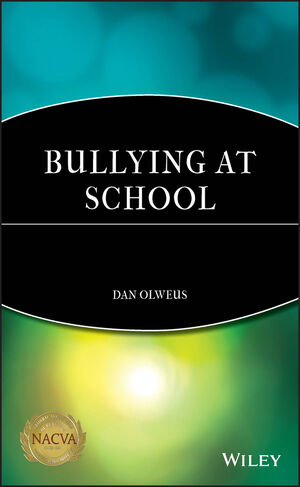 Bullying at School: What We Know and What We Can Do
ISBN: 978-0-631-19241-1 October 1993 Wiley-Blackwell 152 Pages
Description
Bullying at School is the definitive book on bullying/victim problems in school and on effective ways of counteracting and preventing such problems.
Table of contents
Foreword.
Acknowledgments.
Introduction.
Part I: What We Know About Bullying.
Stories from the Press.
What is Meant by Bullying?.
Some Information About the Recent Studies.
One Student out of Seven.
Bully/Victim Problems in Different Grades.
Have Bully/Victim Problems Increased.
Bullying Among Boys and Girls.
How Much Do the Teachers Do? How Much Do the Parents Know.
Bullying at School and on the Way to and from School.
Comparison between Norway and Sweden.
Is Bullying Primarily a Big-City Problem?
The Size of the School and the Class.
Supervision During Recess and Lunch Time.
On Analysis at Different Levels.
Stability of Bully/Victim Problems over Time.
Is Bullying a Consequence of Competition at School?.
What Role do External Deviations Play?.
What Characterizes the Typical Victims?.
What Characterizes the Typical Bullies?
Physical Weakness and Strength.
A Concrete Picture.
What Kind of Rearing Conditions Create Aggressive Children?
Group Mechanisms.
Other Factors.
A Wider Perspective on Bully/Victim Problems.
A Question of Fundamental Democratic Rights.
Portrait Sketches of Henry and Roger, a Victim and a Bully.
Guide for the Identification of Possible Victims and Bullies:.
Being a Victim - Possible Signs.
Being a Bully - Possible Signs.
Part II: What We Can Do About Bullying.
Overview of Intervention Program.
Goals.
Awareness and Involvement.
Measures at the School Level:.
A School Conference Day.
Supervision and Outdoor Environment.
Contact Telephone.
A General PTA Meeting.
Teacher Groups for the Development of the Social Milieu of the School.
Study Groups in Parent-Teacher Associations (Parent Circles).
Measures at the Class Level:.
Class Rules about Bullying.
Praise.
Sanctions.
Class Meetings.
Cooperative Learning.
Common Positive Activities.
Class PTA Meetings.
Measures at the Individual Level.
Serious Talks with the Bully.
Talks with the Victim.
Talks with the Parents.
What Can the Parents of the Bully Do?
What Can the Parents of the Victim Do?
Use of Imagination.
Discussion Groups for Parents of Bullied or Bullying Students.
Change of Class or School.
Part III: Effects of The Intervention Program.
Main Findings.
Brief Comments.
Basic Principles.
Additional Characteristics.
Part IV: Additional Practical Advice and a Core Program.
Support form the Principal and Formation of a Coordinating Group.
Awareness and Involvement.
Adequate Supervision During Recess and Lunch Time.
Class Rules and Class Meetings.
Talks with Involved Students and Their Parents.
Overview of Core Program.
Final Words.
References.
Index.
Reviews
"The problem of school bullying is one of growing dimensions and is of tremendous concern to teachers, parents, and many of the children themselves. Professor Olweus is without question the world's leading authority on the topic. His book is a succinct yet accurate and thorough statement of the problem and what educators and parents can do to alleviate it. It will be invaluable to its intended readership."
Professor David G. Perry, Florida Atlantic University.
"Olweus's book provides evidence that his programme of intervention has encouraging results where it has been applied, leading to significant and sustained reductions in direct and indirect bullying. This should encourage schools and authorities to study the method described and the valuable suggestions made. There is a useful and wide-ranging reference list of works on bullying and aggression." Criminal Behaviour and Mental Health
"Dr Olweus' program, which is in place at 42 Norwegian schools, is the first program against bully/victim problems to be scrutinized by scientific research... The program has been so successful that it is now being set up in several other countries including the United Kingdom, Italy, Germany, and the United States. For Dr Olweus... has studied the problem of bullying for 20 years... Dr Olweus' intervention program is described in detail in his book Bullying at School." Pediatric News
"Share it with other parents." Kentucky Enquirer