International Trade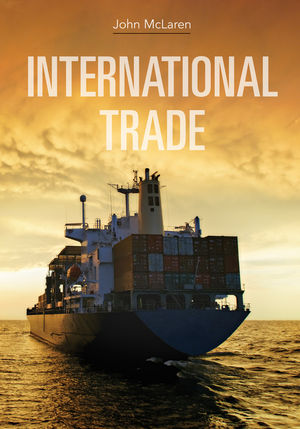 International Trade
ISBN: 978-1-118-54547-8 September 2012 352 Pages
Description
McLaren's International Trade covers all of the conventional theory that students are expected to learn, but presents it in a modern and unique way. Aiming to teach students how to use economic theory instead of merely memorizing economic theory, International Trade introduces each topic with a real-world policy problem followed by the models and theories in an applied approach. This approach encourages more student engagement with the material and fosters a view of model theory as a tool for understanding the world. The text is designed well for undergraduate students but can be used in MBA, and Masters of Public Administration courses in international economics.
Table of contents
About the Author v
Preface vii
Part I. Engines of Globalization
1 A Second Wave of Globalization 1
2 Should Nigeria Strive for Self-Sufficiency in Food? 13
3 Why Do Americans Get Their Impalas from Canada? 30
4 Trade and Large Corporations: Kodak versus Fuji 48
Part II. Politics and Policy in the World Economy
5 Why Did the North Want a Tariff, and Why Did the South Call It an Abomination? 64
6 Is Free Trade a Rip-off for American Workers? 86
7 Why Doesn't Our Government Want Us to Import Sugar? 108
8 Who Are the WTO, and What Do They Have Against Dolphins? 135
9 Should Developing-Country Governments Use Tariffs to Jump-start Growth? 152
10 Was Ronald Reagan Punked by Japanese Automakers? 173
Part III. Current Controversies
11 Should the iPod Be Made in the United States? 188
12 Should We Build a Border Fence? 210
13 Trade and the Environment: Is Globalization Green? 226
14 Sweatshops and Child labor: Globalization and Human Rights 239
15 Is NAFTA a Betrayal of the Poor or a path to Prosperity? 263
Part IV. Macroeconomic Aspects of Globalization
16 Is the Trade Deficit a Time Bomb? 286
17 Trade and Exchange Rates: Is the Renminbi the Culprit? 304
Index 327
Features
Inversion Technique: Real-world policy problems are presented at the beginning of each topic to engage students and are followed by a theoretical model that is necessary to understand the argument being presented.
Coverage: Although the manner of presentation is unusual, and the table of contents shows a series of real-world policy problems rather than theoretical topics, the textbook contains the full set of theoretical models contained in any standard international textbook, presented in full analytical rigor.
Moderate Technical Level: The text does not include Calculus, but the analysis of models is fairly detailed.
Empirical Assignments: Problems at the end of the chapter ask students to work through simple exercises using actual data on spreadsheets.
Theory Exercises on Spreadsheets: Student homework problems on optimal tariffs in Chapter 7 and productivity effects of a Melitz-type model in Chapter 3 are set up in this way.
Family Tree of Trade Models: A diagram that summarizes all of the theory in the course at a glance, and which serves as a map for navigating the course material.
Advanced theoretical topics: The book incorporates a simplified account of the Melitz model; both the Feenstra-Hanson and the Grossman-Rossi-Hansberg models of offshoring; the Kala Krishna theory of VER's as facilitating practices; and very simplified analytical equilibrium treatments of the ideas in theoretical work on the WTO by Bagwell and Staiger and on pollution by Copeland and Taylor.