The Digital Big Bang: How to Survive the Internet: The Cybersecurity Science Every Business Must Live By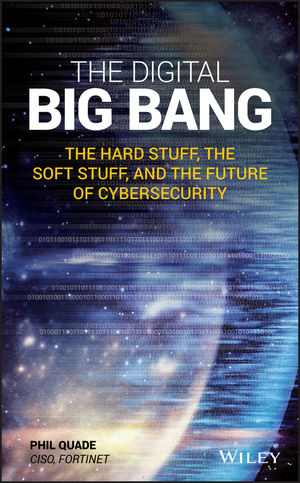 The Digital Big Bang: How to Survive the Internet: The Cybersecurity Science Every Business Must Live By
ISBN: 978-1-119-61736-5 November 2019 320 Pages
Description
The cosmic big bang was an explosion of particles, and the birth of what we now call physics and chemistry. Everything in the cosmic universe is centered around its core particles and the 'elements' of matter, gravity, and time.
Similarly, the digital big bang is an explosion of bits, and the birth of what's becoming the digital age. Everything in our cyber universe is centered around the core elements of speed and connectivity.
When we started paying attention to the core elements of the universe and the core sciences of physics and chemistry, we finally became masters of our world. We understood the rules and rigor necessary to comply with the laws of physics and chemistry. Once we understood and acknowledged these realities, we thrived in the Scientific Age.
Similarly, for the science of cybersecurity, we need to identify the fundamental elements, how they relate and bind to one another, and work with them rather than ignoring or fighting them. A scientific approach to cybersecurity will empower us to thrive in the Digital Age.
Like the scientists of centuries ago, who led the search for knowledge about the cosmic big bang, space, and the science behind it, this book includes thoughtful observations, hypotheses, and conclusions on cyberspace and the digital big bang from many of today's cybersecurity leaders.