300 Unmissable Events and Festivals Around the World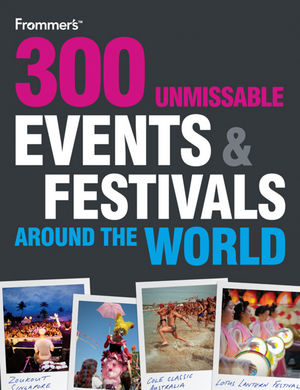 300 Unmissable Events and Festivals Around the World
ISBN: 978-0-470-74221-1
Sep 2009
312 pages
Product not available for purchase
Description
Unmissable: 300 Events & Festivals Around the World is a four-colour inspirational guide book to events and festivals, celebrations and natural phenomena in the world's top cities, secret retreats and far-flung places. It also offers practical information and insider tips, from how to get there, to where and when to buy tickets before they sell out, the best vantage point for a street festival or cycle race.   First-person recommendations by Whatsonwhen editors and lively descriptions to bring the sound, smell, feel and taste of each experience to life.



Something for everyone - full of global events for families, the adventurous or those who want to celebrate in style.

Inspiring - whether you want to dance the tango in the streets of Buenos Aires, pick cherry blossom in Japan or eat the world's greates pizzas in Italy.

Something for families - Full of family friendly treats suitable for all budgets and tastes

The guide targets open-minded travellers who want to live the local experience and make the shift from observer to participant.

Readers are also invited to access a wider selection of events on the associated website.
Where to.
Art and Culture.
Family.
Food and Drink.
Glamorous.
Music.
Natural Wonders.
Spectacular.
Spiritual and Religious.
Sport and Adventure.
Weird and Wonderful.
Events by Location.
Calendar of Events.
Author Profiles.
Index.
Photo Credits.