A Companion to Eighteenth-Century Poetry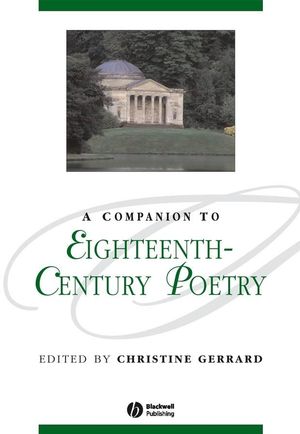 A Companion to Eighteenth-Century Poetry
ISBN: 978-1-405-11316-8 September 2006 Wiley-Blackwell 624 Pages
Description
This broad-ranging Companion offers readers a thorough grounding in both the background and the substance of eighteenth-century poetry in all its rich variety.
Provides an up-to-date and wide-ranging guide to eighteenth-century poetry
Reflects the dramatic transformation which has taken place in the study of eighteenth-century poetry over the past two decades
Opens with a section on contexts, discussing poetry's relationships with patriotism, politics, science, and the visual arts, for example
Discusses poetry by male and female poets from all walks of life
Includes numerous close readings of individual poems, ranging from Pope's The Rape of the Lock to Mary Collier's The Woman's Labour
Includes more provocative contributions on subjects such as rural poetry and the self-taught tradition, British poetry 'beyond the borders', the constructions of femininity, women as writers and women as readers.
Designed to be used alongside David Fairer and Christine Gerrard's Eighteenth-Century Poetry: An Annotated Anthology, 3rd edition (Wiley Blackwell, 2014)
Table of contents
Notes on Contributors ix
Acknowledgments xv
Introduction 1
Christine Gerrard
PART I Contexts and Perspectives 5
1 Poetry, Politics, and the Rise of Party 7
Christine Gerrard
2 Poetry, Politics, and Empire 23
Suvir Kaul
3 Poetry and Science 38
Clark Lawlor
4 Poetry and Religion 53
Emma Mason
5 Poetic Enthusiasm 69
John D. Morillo
6 Poetry and the Visual Arts 83
Robert Jones
7 Poetry, Popular Culture, and the Literary Marketplace 97
George Justice
8 Women Poets and Their Writing in Eighteenth-Century Britain 111
Charlotte Grant
9 Poetry, Sentiment, and Sensibility 127
Jennifer Keith
PART II Readings 143
10 John Gay, The Shepherd's Week 145
Mina Gorji
11 Alexander Pope, The Rape of the Lock and "Eloisa to Abelard" 157
Valerie Rumbold
12 Jonathan Swift, the "Stella" Poems 170
Ros Ballaster
13 Lady Mary Wortley Montagu, Six Town Eclogues and Other Poems 184
Isobel Grundy
14 James Thomson, The Seasons 197
Christine Gerrard
15 Stephen Duck, The Thresher's Labour, and Mary Collier, The Woman's Labour 209
John Goodridge
16 Mary Leapor, "Crumble-Hall" 223
David Fairer
17 Mark Akenside, The Pleasures of Imagination 237
Adam Rounce
18 Samuel Johnson, London and The Vanity of Human Wishes 252
David F. Venturo
19 William Collins, "Ode on the Poetical Character" 265
John Sitter
20 Thomas Gray, Elegy Written in a Country Church Yard 277
Suvir Kaul
21 Christopher Smart, Jubilate Agno 290
Chris Mounsey
22 Oliver Goldsmith, The Deserted Village, and George Crabbe, The Village 303
Caryn Chaden
23 William Cowper, The Task 316
Freya Johnston
24 Robert Burns, "Tam o' Shanter" 329
Murray Pittock
PART III Forms and Genres 339
25 Rhyming Couplets and Blank Verse 341
Richard Bradford
26 Epic and Mock-Heroic 356
Richard Terry
27 Verse Satire 369
Brean Hammond
28 The Ode 386
Margaret M. Koehler
29 The Georgic 403
Juan Christian Pellicer
30 The Verse Epistle 417
Bill Overton
PART IV Themes and Debates 429
31 The Constructions of Femininity 431
Kathryn R. King
32 Whig and Tory Poetics 444
Abigail Williams
33 The Classical Inheritance 458
David Hopkins
34 Augustanism and Pre-Romanticism 473
Thomas Woodman
35 Recovering the Past: Shakespeare, Spenser, and British Poetic Tradition 486
Carolyn D. Williams
36 The Pleasures and Perils of the Imagination 500
Paul Baines
37 The Sublime 515
Shaun Irlam
38 Poetry and the City 534
Markman Ellis
39 Cartography and the Poetry of Place 549
Rachel Crawford
40 Rural Poetry and the Self-Taught Tradition 563
Bridget Keegan
41 Poetry Beyond the English Borders 577
Gerard Carruthers
Index 590
Features


Brings together original contributions by leading international scholars and practising poets.


Offers critical and contextual coverage of the full range of English-language poetry in the twentieth-century.


Incorporates new readings of key selected texts.


Embraces the extraordinary development of poetry over the century in twenty English-speaking countries.


Fully integrates women poets, feminist approaches and post-colonial poets.