A Companion to Greek and Roman Political Thought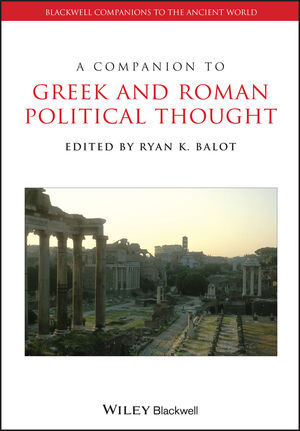 A Companion to Greek and Roman Political Thought
ISBN: 978-1-405-15143-6 March 2009 Wiley-Blackwell 688 Pages
Description
Comprises 34 essays from leading scholars in history, classics, philosophy, and political science to illuminate Greek and Roman political thought in all its diversity and depth.
Offers a broad survey of ancient political thought from Archaic Greece through Late Antiquity
Approaches ancient political philosophy from both a normative and historical focus
Examines Greek and Roman political thought within historical context and contemporary debate
Explores the role of ancient political thought in a range of philosophies, such as the individual and community, human rights, religion, and cosmopolitanism
Cannot be combined with any other offers.
Table of contents
Notes on Contributors x
Acknowledgments xvi
Note on Translations xvii
List of Abbreviations xviii
PART I The Broad View 1
1 Introduction: Rethinking the History of Greek and Roman Political Thought 3
Ryan K. Balot
2 What is Politics in the Ancient World? 20
Dean Hammer
3 Early Greek Political Thought in Its Mediterranean Context 37
Kurt A. Raaflaub
4 Civic Ideology and Citizenship 57
P. J. Rhodes
5 Public Action and Rational Choice in Classical Greek Political Theory 70
Josiah Ober
6 Imperial Ideologies, Citizenship Myths, and Legal Disputes in Classical Athens and Republican Rome 85
Craige B. Champion
7 Gendered Politics, or the Self-Praise of Andres Agathoi 100
Giulia Sissa
8 The Religious Contexts of Ancient Political Thought 118
Robin Osborne
PART II Democracies and Republics 131
9 Democracy Ancient and Modern 133
Peter Liddel
10 ''Rights,'' Individuals, and Communities in Ancient Greece 149
Paul Cartledge and Matt Edge
11 Personal Freedom in Greek Democracies, Republican Rome, and Modern Liberal States 164
Robert W. Wallace
12 The Mixed Constitution in Greek Thought 178
David E. Hahm
13 Republican Virtues 199
Malcolm Schofield
14 Roman Democracy? 214
W. Jeffrey Tatum
PART III The Virtues and Vices of One-Man Rule 229
15 The Uses and Abuses of Tyranny 231
Sara Forsdyke
16 Hellenistic Monarchy in Theory and Practice 247
Arthur M. Eckstein
17 The Ethics of Autocracy in the Roman World 266
Carlos F. Noren˜a
PART IV The Passions of Ancient Politics 281
18 Political Animals: Pathetic Animals 283
Giulia Sissa
19 Anger, Eros, and Other Political Passions in Ancient Greek Thought 294
Paul W. Ludwig
20 Some Passionate Performances in Late Republican Rome 308
Robert A. Kaster
PART V The Athens of Socrates, Plato, and Aristotle 321
21 The Trial and Death of Socrates 323
Debra Nails
22 The Politics of Plato's Socrates 339
Rachana Kamtekar
23 Freedom, Tyranny, and the Political Man: Plato's Republic and Gorgias, a Study in Contrasts 353
Arlene W. Saxonhouse
24 Plato on the Sovereignty of Law 367
Zena Hitz
25 ''Naturalism'' in Aristotle's Political Philosophy 382
Timothy Chappell
26 The Ethics of Aristotle's Politics 399
David J. Depew
PART VI Constructing Political Narrative 419
27 Imitating Virtue and Avoiding Vice: Ethical Functions of Biography, History, and Philosophy 421
Charles W. Hedrick, Jr
28 Greek Drama and Political Thought 440
John Gibert
29 Character in Politics 456
Philip A. Stadter
PART VII Antipolitics 471
30 Cosmopolitan Traditions 473
David Konstan
31 False Idles: The Politics of the ''Quiet Life'' 485
Eric Brown
32 Citizenship and Signs: Rethinking Augustine on the Two Cities 501
Todd Breyfogle
PART VIII Receptions 527
33 Republicanism: Ancient, Medieval, and Beyond 529
Christopher Nadon
34 Twentieth Century Revivals of Ancient Political Thought: Hannah Arendt and Leo Strauss 542
Catherine H. Zuckert
References 557
Index of Subjects 620
Index Locorum 650
Reviews
"This is an extremely valuable volume, a must for every library; perhaps the paperback will be priced within the reach of at least some individuals." (The Heythrop Journal, 14 April 2015)
"Of note is the indispensable list of primary sources and a prodigious bibliography of secondary texts. These alone probably justify the purchase price."
(CHOICE
, 2009)
Features


Offers a broad survey of ancient political thought from Archaic Greece through Late Antiquity

Approaches ancient political philosophy from both a normative and historical focus

Examines Greek and Roman political thought within historical context and contemporary debate

Explores the role of ancient political thought in a range of philosophies, such as the individual and community, human rights, religion, and cosmopolitanism