A Companion to Victorian Literature and Culture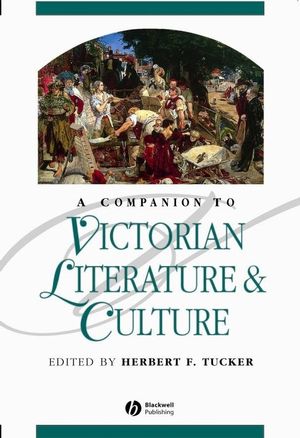 A Companion to Victorian Literature and Culture
ISBN: 978-0-631-21876-0 December 1999 Wiley-Blackwell 512 Pages
Description
Thirty leading Victorianists from around the world collaborate here in a multidimensional analysis of the breadth and sweep of modern Britain's longest, unruliest literary epoch.
Table of contents
Part I: History In Focus:
.
1. 1832: Finding the Beginning: Lawrence Poston.
2. 1848: Revolution and Reform: Antony H. Harrison.
3. 1870: Linda K. Hughes.
4. 1897: Stephen Arata.
Part II: Passages Of Life:.
5. Growing Up: Childhood: Claudia Nelson.
6. Moving Out: Adolescence: Chris R. Vanden Bossche.
7. Growing Old: Age: Teresa Mangum.
8. Passing On: Death: Gerhard Joseph and Herbert F. Tucker.
9. Victorian Sexualities: James Eli Adams.
Part III: Walks Of Life:.
10. Clerical: Christine L. Krueger.
11. Legal: Simon Petch.
12. Medical: Lawrence Rothfield.
13. Military: John R. Reed.
14. Educational: Thomas William Heyck.
15. Administrative: Robert Newsom.
16. Financial: Christina Crosby.
17. Industrial: Herbert Sussman.
18. Commercial: Jennifer Wicke.
19. Spectacle: Joss Marsh.
20. Publishing: Richard D. Altick.
Part IV: Kinds Of Writing: .
21. Poetry: E. Warwick Slinn.
22. Fiction: Hilary Schor.
23. Drama: Alan Fischler.
24. Life Writing: Timothy Peltason.
25. Sage Writing: Linda H. Petersen.
26. Literary Criticism: David E. Latane, Jr.
Part V: Borders: Skins / Walls / Shores:.
27. Under Victorian Skins: Helena Michie.
28. On the Parapets of Privacy: Karen Chase and Michael Levenson.
29.'Then on the Shore of the Wide World': The Victorian Nation and Its Others: James Buzard.
Index .
Reviews
"Each of the very varied contributions - there are 29 of them in all - is well equipped with exhaustive and up-to-date bibliographies, invaluable for further studies. There is also an excellent index. Altogether, therefore, this is an admirable and enduring book, which should certainly be added to the reference departments of all self-respecting university libraries - and a great many civic and municipal libraries, as well."
Languages and Literature


"This book has been planned to meet both short-term and long-range needs. It is a reference work for consultation. "
The Victorian Newsletter
"...Tucker's Companion, with its extensive range of topics (some truly original and rarely dealt with in similar books), its well-documented essays, and constant degree of serious scholarship, apears indeed as an extremely valuable tool for students and scholars alike, and a major contribution to Victorian criticism." The Journal of the South Central Modern Language Association
Features
* Will serve students as a readable introduction and useful reference volume throughout their Victorian studies.
* Includes extensive bibliographies directing the student to further reading.
* Examines Victorian literature in its cultural and historical context.