A Dictionary of Philosophical Quotations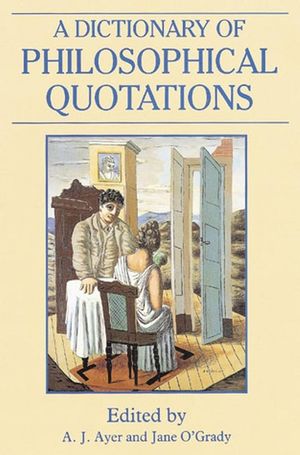 A Dictionary of Philosophical Quotations
ISBN: 978-0-631-19478-1 June 1994 Wiley-Blackwell 544 Pages
Description
The dictionary shows philosophers at their best (and their worst), at their most perverse and their most elegant. Organised by philosopher, and indexed by thought, concept and phrase, it enables readers to discover who said what, and what was said by whom. Over 300 philosophers are represented, from Aristotle to Zeno, including Einstein, Aquinas, Sartre and De Beauvoir, and the quotations range from short cryptic phrases to longer statements.
This Dictionary of Philosophical Quotations will not change your life. It will change your mind.
Publishers Note.
Introduction.
List of Contributors.
Acknowledgements.
The Dictionary: A-Z.
Glossary.
Index.
"Everybody should have a copy."
Auberon Waugh, The Sunday Telegraph
"The spread of philosophers is huge - more than 330 jostle in the book ... I cannot think of any figure who is missing from this roll-call ... this is not really a book of quotations as we know it but something far more mighty." Literary Review
"The most surprising philosophers do come across. One gets a fair impression of Derrida, and the quotations from Adorno present a whole philosophy in brief digestible form." Times Literary Supplement
* Quotations from over 300 of the leading figures in world philosophy.
* Selections chosen by distinguished collection of philosophers.
* Covers a wide range of the western philosophical tradition.
* The last major project embarked on by A. J. Ayer.
* An index to main philosophical schools, genres and ideas.