A Feminist Philosophy of Religion: The Rationality and Myths of Religious Belief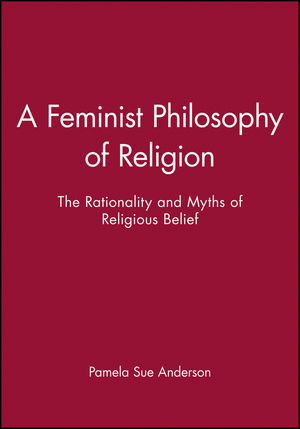 A Feminist Philosophy of Religion: The Rationality and Myths of Religious Belief
ISBN: 978-0-631-19383-8 October 1997 Wiley-Blackwell 304 Pages
Description
Bridging the traditionally separate domains of analytic and Continental philosophies, Pamela Sue Anderson presents for the first time, a feminist framework for studying the philosophy of religion.
Table of contents
Preface.
Acknowledgements.
Part I: Introduction: Background Matters:.
1. Reason, Belief, and What is Excluded.
2. Sex/Gender and Reason.
3. Contemporary Philosophy of Religion.
4. Thinking from the Lives and Beliefs of Others.
5. Anticipating Configurations and Refigurations.
Part II: Epistemological Frameworks of Belief:.
1. The Rationality of Religious Belief: Reason in 'Crisis'.
6. The So-Called Crisis of Rationality.
7. Religious Belief, Experience, and Epistemetic Duty.
8. The Empiricist Privileging of Formal Rationality.
9. Epistemological Frameworks of Belief.
10. Questioning the Neutrality of Rationality.
11. Refiguring Rationality.
12. A Critique of Reason.
2. Feminists and the Rationality of Belief - I: Strong Objectivity.
13. Rationality and Epistemological Frameworks.
14. Accounts of Objectivity.
15. Objectivity as Too Weak.
16. Strong Objectivity.
17. The Subject of Feminist Standpoint Epistemology.
18. What is Still Lacking for Feminist Belief.
19. A Critical Coda.
3. Feminists and the Rationality of Belief - II: Female Desire.
20. New Content for Belief.
21. Desire and the Rational Subject.
22. Sexually Specific Discourse and the Numinous.
23. Post-Patriarchal Philosophy and Religion.
24. On the Buried Maternal.
25. A Feminist Modification of Rational Belief.
Part III: Refigurations of Belief:.
4. Myth, Mimesis, and Religious Belief.
26. Reason, Embodiment and Belief.
27. Rethinking Myth.
28. Defining Mimesis.
29. Sexual Identity in Religion.
30. Mimetic Refigurations.
31. A Regulative Ideal: Reason and Desire.
5. Figuring the Rationality of Religious Belief: Belief, Action, and Devotion.
32. Figuring Belief: Reinventing Ourselves as Other.
33. Rational Passion and Female Desire: Yearning.
34. Reading Beliefs in Myths of Dissent.
35. Marginality and Dissent: Antigone and Mirabai.
36. Dominant Configurations of Religious Devotion.
37. Rationality of Belief Mimed.
38. Preliminary Conclusion: Yearning Assessed.
Part IV: Conclusion:.
6. Final Critical Matters.
39. Reason and the Philosophical Imaginary.
40. Enlightenment Rationality and Patriarchy.
41. Reason's 'Crisis' and the Female Symbolic.
42. Belief and the Existence of a Personal Deity.
43. The Problem of a Universal Assumption: Patriarchy.
34. Death and Woman: Destructive and Creative.
Summary.
Bibliography.
Index.
Reviews
"With this book, Pamela Sue Anderson establishes a significant landmark in the development of a distinctively feminist approach to philosophy of religion. It makes an impressive contribution to the ongoing debate concerning the future of this discipline."
Beverley Clack, Roehampton Institute, London
"Anderson has written a provocative and challenging book which has implications for both feminist theologians and feminist philosophers of religion ... the question she asks extend beyond philosophical boundaries to issues which affect feminist scholarship in many different disciplines." Tina Beattie, University of Bristol
"Anderson is a pioneer in the exciting new fields of feminist and poststructuralist philosophies of religion. She develops a conception of reason that can be rooted in religious life and practise rather than superimposed from outside. her work deserves to be studied." Philip Goodchild, University College of St. Martin, Lancaster
Features
* Contributes to a rapidly expanding field of study.
* Presents the first feminist framework for the study of philosophy of religion.
* Balances the study of both religion and philosophy.