A Private Sphere: Democracy in a Digital Age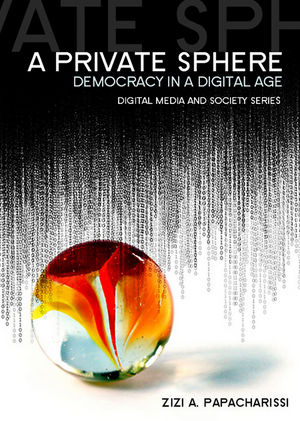 A Private Sphere: Democracy in a Digital Age
ISBN: 978-0-745-64524-7 June 2010 Polity 200 Pages
Description
Online technologies excite the public imagination with narratives of democratization. The Internet is a political medium, borne of democracy, but is it democratizing?
Late modern democracies are characterized by civic apathy, public skepticism, disillusionment with politics, and general disinterest in conventional political process. And yet, public interest in blogging, online news, net-based activism, collaborative news filtering, and online networking reveal an electorate that is not disinterested, but rather, fatigued with political conventions of the mainstream.
This book examines how online digital media shape and are shaped by contemporary democracies, by addressing the following issues:
How do online technologies remake how we function as citizens in contemporary democracies?
What happens to our understanding of public and private as digitalized democracies converge technologies, spaces and practices?
How do citizens of today understand and practice their civic responsibilities, and how do they compare to citizens of the past?
How do discourses of globalization, commercialization and convergence inform audience/producer, citizen/consumer, personal/political, public/private roles individuals must take on?
Are resulting political behaviors atomized or collective?
Is there a public sphere anymore, and if not, what model of civic engagement expresses current tendencies and tensions best?
Students and scholars of media studies, political science, and critical theory will find this to be a fresh engagement with some of the most important questions facing democracies today.
Table of contents
Acknowledgements vii
1 Contemporary Democracies, Civic Engagement, and the Media 1
Media and the mythology of the new 7
Old and new democracy 11
The conditions of contemporary democracy 12
A new(er) civic vernacular 15
2 Public and Private Expression in Contemporary Democracies 25
The dichotomy of public and private over time 26
The dichotomy of public and private at present 37
Privacy as commodity 42
A trichotomy: the social 48
3 Converged Media, Converged Audiences, and Converged Publics 51
Convergence in everyday life 53
Convergence of technologies 61
Convergence of spaces 68
Convergence of practices 74
Technology as the architecture of the new 78
4 The Question of Citizenship in a Converged Environment 80
A long history of imperfect citizenship 81
The past and contemporary citizenship modalities 88
The liquid citizen: a combined model of fl exible citizenship 107
5 The Public Sphere, Expired? On the Democratizing Potential of Convergent Technologies 112
The public sphere in contemporary democracies 113
Access to information 120
Reciprocity 121
Commercialization 123
A new kind of public 125
6 A Private Sphere 131
Five new civic habits 138
1 The networked self and the culture of remote connectivity 138
2 A new narcissism: blogging 144
3 The rebirth of satire and subversion: YouTube 150
4 Social media news aggregation and the plurality of collaborative fi ltering 152
5 The agonistic pluralism of online activism 157
The private sphere and the networked citizen 161
References 168
Index 194
Reviews
"This is a deeply thoughtful book that asks a genuinely important questionÑDo the new media empower us or do they trap us in our own cocoons, cutting us off from meaningful contact with others? Papacharissi doesn't let the reader off easily. Insistently, beguilingly, she brings up uncomfortable issuesÑWhy are blogs so narcissistic? What happens politically when YouTube goes beyond the pale?Ñand she never settles for easy answers. If you care about politics, if you care about modernity, read this book."
Roderick P. Hart, University of Texas at Austin

"Papacharissi is a pioneer in the study of democracy and how it is "practiced" in the digital age. A Private Sphere is a deep, thoughtful exploration of citizenship, information, and technology at a moment of great fluidity. Anyone with an interest in how media shape political culture would do well to engage the arguments of this terrific book."
Susan Herbst, Georgia Tech

"An thoughtful and thought-provoking book. Papacharissi's argument that the convergence of technology, practices and spaces is opening a private sphere as the locus for reworked modes of citizenship is an intriguing and important one. Read this book!"
Charles Whitney, Northwestern University
Features
New volume in Polity's highly successful Digital Media and Society series.
Provides a major contribution to a hot topic in the field: how online digital media shape and are shaped by contemporary democracies.
Questions how our understanding of distinctions between public and private changes in a digital context and explores the significance for theorising about the public sphere.
Uses examples from blogging, online news, net-based activism, collaborative news filtering and online networking.
Forces a major re-thinking of notions of contemporary political apathy.