A Theory of Shopping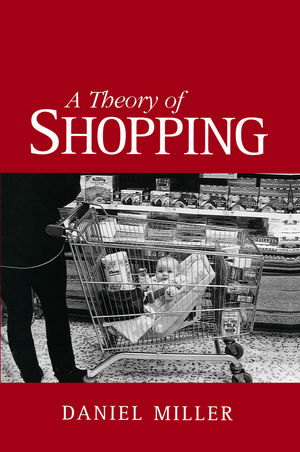 A Theory of Shopping
ISBN: 978-0-745-66791-1 May 2013 Polity 192 Pages
Download Product Flyer
Download Product Flyer
Download Product Flyer is to download PDF in new tab. This is a dummy description. Download Product Flyer is to download PDF in new tab. This is a dummy description. Download Product Flyer is to download PDF in new tab. This is a dummy description. Download Product Flyer is to download PDF in new tab. This is a dummy description.
Description
A Theory of Shopping
offers a highly original perspective on one of our most basic everyday activities - shopping. We commonly assume that shopping is primarily concerned with individuals and materialism. But Miller rejects this assumption and follows the surprising route of analysing shopping by means of an analogy with anthropological studies of sacrificial ritual. He argues that the act of purchasing goods is almost always linked to other social relations, and most especially those based on love and care.
The ethnographic sections of the book are based on a year's study of shopping on a street in North London. This provides the basis for a sensitive description of the issues the shopper confronts when making decisions as to what to buy. Miller develops a theory to account for these observations, arguing that shopping typically consists of three major stages which reflect the three key stages of many rites of sacrifice. In both shopping and sacrifice the ultimate intention is to constitute others as desiring subjects. Finally the book examines certain historical shifts in both subjects and objects of devotion, in particular, ideals of gender and love.
This treatment of shopping from the perspective of comparative anthropology represents a highly innovative approach to one of the most familiar tasks of our daily lives. Written in a clear and accessible manner, this book will be of interest to students and academics in anthropology, sociology and cultural studies, as well as anybody who wants to consider more deeply the nature of their own everyday activities.
Table of contents
Introduction.
1. Making Love in Supermarkets.
2. Shopping as Sacrifice.
3. Subjects and Objects of Devotion.
Notes.
Bibliography.
Index.
Reviews
"Before reading this book, I did not believe that a theory of shopping was possible. Now I do. Daniel Miller argues that shopping is a ritual practice oriented to others. In doing so, he puts the heart back into his accounts of consumption which too often assume that shopping is an asocial or even anti-social activity. Remarkable."
Nigel Thrift, University of Bristol
"His demystification of what appears to be, on the surface, straightforward juggling of cost, quantity and quality is absorbing reading." New Statesman and Society
"Miller's Hegelian assumptions are provocative and testing. In short an exhilarating book." New Formations
"Miller begins with an excellent and sensitive ethnography of shopping firmly rooted among his own native north Londoners. It is a fine example of what an anthropologist can achieve at home." The Times Higher Education Supplement
Features
Highly original and unusual approach to the study of an everyday activity - shopping, which the author analyses using anthropological studies of sacrificial ritual
The book is based on substantial research
It is very accessible for the non-specialist and the author's argument is clear
The author is well-known internationally for his writings on material culture.