ABC of Clinical Haematology, 3rd Edition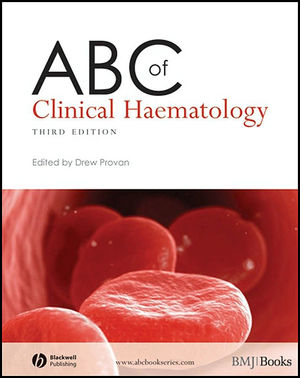 ABC of Clinical Haematology, 3rd Edition
ISBN: 978-1-444-31268-3 April 2009 BMJ Books 112 Pages
Description
This
ABC
has established itself as a popular introduction to Clinical Haematology, relevant both for postgraduate students and primary care practitioners. Now in its third edition, the
ABC of Clinical Haematology
has been thoroughly revised, featuring the latest treatments for leukemia, antithrombotics and drugs for lymphoma and covering the latest advances in hematology and bone marrow transplantation.
With each chapter written by specialists in their respective fields, this is an ideal basic text for general practice and hospital staff with patients who have blood related problems, in particular GPs, hematology nurses, junior doctors, hematologists, and trainees in hematology.
Table of contents
1 Iron Deficiency Anaemia.
Drew Provan.
2 Macrocytic Anaemias.
A Victor Hoffbrand, Drew Provan.
3 The Hereditary Anaemias.
David J Weatherall.
4 Polycythaemia, Essential Thrombocythaemia and Myelofibrosis.
George S Vassiliou, Anthony R Green.
5 Chronic Myeloid Leukaemia.
John M Goldman.
6 The Acute Leukaemias.
Mark Cook, Charles Craddock.
7 Platelet Disorders.
Marie A Scully, Samuel J Machin, R J Leisner.
8 The Myelodysplastic Syndromes.
Paul A Cahalin, John A Liu Yin.
9 Multiple Myeloma and Related Conditions.
Charles R J Singer.
10 Bleeding Disorders, Thrombosis and Anticoagulation.
David M Keeling.
11 Lymphoproliferative Disorders Including Chronic Lymphocytic Leukaemia.
Bronwen Shaw, Simon O'Connor, Andrew P Haynes.
12 Stem Cell Transplantation.
Fiona Clark, Charles Craddock.
13 Haematological Disorders at the Extremes of Life.
Carolina Lahoz, Tyrell G J R Evans, Adrian C Newland.
14 Haematological Emergencies.
Jim Murray, Belinda Austen, Drew Provan.
15 The Future of Haematology: the Impact of Molecular Biology and Gene Therapy.
Bella R Patel, Adele K Fielding.
Index
Reviews
"The book is designed to be easy to use and covers the symptoms, investigations, treatment, and management of conditions presented in day-to-day practice."
National Institute of Diabetes and Digestive and Kidney Diseases<!--end-->
What's New
A new edition of this popular introduction for junior doctors and students


Includes latest treatments for leukaemia, antithrombotics and drugs for lymphoma

Covers advances in haematology and bone marrow transplantation

Relevant for postgraduate students and primary care practitioners