ABC of Dermatology, 5th Edition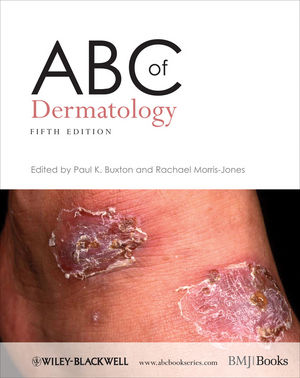 ABC of Dermatology, 5th Edition
ISBN: 978-1-405-17065-9
Mar 2009, BMJ Books
224 pages
Product not available for purchase
Description
With over 250 full colour illustrations the new 5th edition of the bestselling ABC of Dermatology covers the diagnosis and treatment of skin conditions for the non-dermatologist. It sets out the main types of clinical change that occur in and on the skin, and relates this to specific skin conditions and underlying pathological changes. It then summarises the relevant pathological processes, diagnostic features and learning points. The types of treatment are clearly differentiated - between those suitable for the patient to obtain 'off the shelf', on prescription, and in specialist units.

The ABC of Dermatology provides the core knowledge of diagnosis and therapy of common conditions and the general principles of skin condition management. Including new chapters on drug rashes, connective tissue disease, skin tumours, practical procedures, laser treatments and a practical guide to dressings and bandages, this highly illustrated ABC is the perfect learning partner for GPs, GP registrars, junior doctors, medical students and primary care nurses.
Contributors.
Preface.
Acknowledgements.
1 Introduction.
2 Psoriasis.
3 Management of Psoriasis.
4 Eczema (Dermatitis) Including Management.
5 Urticaria and Angio-oedema,.
6 Skin and Photosensitivity..
7 Inflammatory dermatoses: Drug Rashes.
8 Inflammatory dermatoses: Immunobullous and Pther Blistering Disorders.
9 Inflammatory Dermatoses: Connective Tissue Disease, Vasculitis and Related Disorders.
10 The Skin and Systemic Disease.
11 Leg Ulcers.
12 Acne and Rosacea.
13 Bacterial Infections.
14 Viral Infections.
15 HIV and the Skin.
16 Fungal Infections.
17 Insect Bites and Infestations.
18 Tropical Dermatology.
19 Hair and Scalp.
20 Diseases of the Nails.
21 Benign Skin Tumours.
22 Premalignant and Malignant Skin Tumours.
23 Practical Procedures.
24 Lasers, Intense Pulsed Light and Photodynamic Therapy.
25 Dressings and Bandages.
26 Formulary.
Index.
"The book is clear in style, with over 250 illustrations which are relevant to the content. . .It was easy to understand and could be read completely or dipped into according to topic area. . .Overall the book is a useful tool for primary care staff and due to the detailed illustrations and treatment section will be used frequently by the team." (Journal of Community Nursing, 1 November 2011)
"This highly illustrated ABC will be invaluable for GPs, GP registrars, junior doctors, medical students and primary care nurses." (Prescriber, November 2009)


A new 5th edition of this bestselling ABC covering the diagnosis and treatment of skin conditions for the non-dermatologist

Covers the core knowledge on therapy, management and diagnosis of common conditions and highlights the evidence base

Provides clear learning outcomes and basic science boxes

Includes a new chapter on the general principles of skin condition management for specialist nurses