ABC of Sepsis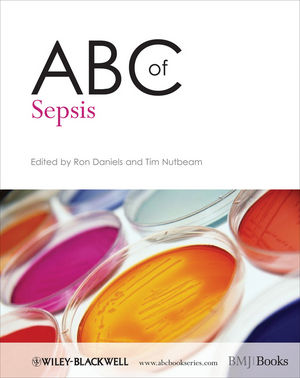 ABC of Sepsis
ISBN: 978-1-405-18194-5 December 2009 BMJ Books 98 Pages
Description
The importance of early prevention and treatment of sepsis has never been greater. In the UK alone sepsis contributes to more deaths than lung cancer, from bowel cancer and breast cancer combined, and approximately one third of patients who suffer from severe sepsis die. The
ABC of Sepsis
provides a much needed introduction and an invaluable aid in the increasing efforts to reduce hospital infection and improve patient safety.
As growing numbers of junior medical staff experience emergency medicine, critical care and acute medicine as part of the Foundation Programme, there is an increasing need to develop the skills required to treat severe sepsis. The editors are involved with the Survive Sepsis campaign - developed to improve the recognition, diagnosis and treatment of sepsis - and are perfectly placed to guide junior medics, GPs, specialist nurses, critical care nurses and primary care staff through this core aspect of acute medicine.
Cannot be combined with any other offers.
Table of contents
Contributors vii
Preface ix
1 Introduction 1
Mitchell M. Levy
2 Defining the Spectrum of Disease 5
Ron Daniels
3 Identifying the Patient with Sepsis 10
Ron Daniels
4 Serious Complications of Sepsis 15
Hentie Cilliers Tony Whitehouse and Bill Tunnicliffe
5 The Pathophysiology of Sepsis 20
Edwin Mitchell and Tony Whitehouse
6 Initial Resuscitation 25
Tim Nutbeam
7 Microbiology and Antibiotic Therapy 29
Partha De and Ron Daniels
8 Infection Prevention and Control 36
Fiona Lawrence Georgina McNamara and Clare Galvin
9 The Role of Imaging in Sepsis 42
Morgan Cleasby
10 Presentations in Medical Patients 48
Nandan Gautam
11 Presentations in Surgical Patients 57
Jonathan Stewart and Sian Abbott
12 Special Cases: The Immunocompromised Patient 62
Manos Nikolousis
13 The Role of Critical Care 68
Julian Hull
14 Monitoring the Septic Patient 73
David Stanley
15 Novel Therapies in Sepsis 78
Gavin D. Perkins and David R. Thickett
16 Approaches to Achieve Change 83
Julian F. Bion and Gordon D. Rubenfield
Index 87
Reviews
"The book's illustrations are superb. At the beginning of each chapter, an overview is presented, helping to succinctly outline the key points in the chapter. Tables and boxes are employed to outline key diagnostic and treatment points. There are a number of clinical pictures along with radiographic images to help highlight points of interest." (
Journal of the Intensive Care Society
, April 2010)
What's New


A much needed introduction to this important subject - a core aspect of acute medicine in the UK.

Offers a basic introduction to sepsis for trainees and the MDT – a core aspect of acute medicine

A timely subject due to current concerns regarding hospital infection and patient safety

The authors are involved with the Surviving Sepsis campaign, developed to improve the management, diagnosis and treatment of sepsis