Accounting Ethics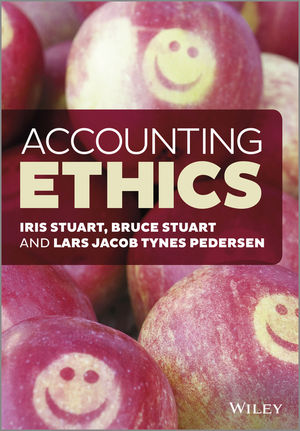 Accounting Ethics
ISBN: 978-1-118-54240-8
Apr 2014
312 pages
Description
Balancing both technical proficiency and ethical sensibility, Accounting Ethics provides a decision model  approach throughout, aiding both student comprehension and supporting the instructor in emphasizing the key elements of the decision process that shapes the technically and ethically competent professional accountant.
Preface ix
Acknowledgments xi
PART I PURPOSE, BACKGROUND, AND APPROACH 1
Chapter 1 The Technical and Ethical Responsibilities in Accounting 3
Accounting, Ethics Reform, and You 3
A Brief History of Accounting Ethics in Higher Education 7
The Authors' Perspective 9
Accounting Education: Training for Competency and Moral Philosophy as a Resource 13
Accounting Theory and Ethics 15
Accounting Discourse: Knowledge Production and Communication 17
Accounting as Practice: The Realization of Internal Goods and Virtues 20
Chapter Review Questions 23
References 24
Chapter 2 Decision Making in Accounting 26
The General Nature of Decisions and Decision Making in Accounting 27
Making a Decision Under Conditions of Uncertainty 28
The Learning of Technical Competency in the Classroom and Mentored Work Experience 29
The Goal of Accounting: The Production of Financial Reports for Various Stakeholders 30
A Working Definition of Ethics 36
Utilitarianism 39
Deontology 40
Virtue Ethics 41
Social Contract Theory 43
A Decision Model for Accounting Ethics 45
Outline of the Book 53
Chapter Review Questions 55
References 55
PART II A DECISION MODEL FOR ACCOUNTING ETHICS 57
Chapter 3 Defining the Problem – From an Accounting and an Ethical Point of View 59
Introduction 60
Problem-Definition: Finding and Formulating the Problem 61
The Accounting Problem and the Ethical Problem 63
Finding the Problem in Accounting Ethics 68
Formulating the Problem in Accounting Ethics 73
Summary 77
Chapter Review Questions 78
Cases 78
Chapter 4 Accounting Standards for Financial Statements: Resources for Decision Making 81
The Objective of Financial Statements 82
Using Rules for Financial Statement as a Resource to Make Accounting Decisions 83
The Conceptual Framework 84
The Financial Statements 85
Accounting Rules for Recording Transactions and Valuing Accounts 88
Quality of Information 92
Ethical Issues Associated with the Profit or Loss Statement and the Statement of Financial Position 93
Fraud and Ethics 101
Chapter Review Questions 104
Cases 104
Chapter 5 Moral Philosophy and Ethical Reasoning: Resources for Decision Making 116
Toward an Ethical Framework in Accounting Practice 117
Using Moral Philosophy Principles as a Resource to Make Accounting Decisions 119
The Philosophical Traditions, Duties, and Virtues 120
The Elements of Moral Philosophy Embedded in Accounting Practice: Utilitarianism 121
Summary 123
The Elements of Moral Philosophy Embedded in Accounting: Deontology 124
The Deontological View of Human Nature: Reason, Freedom, and Autonomy 125
Virtue Ethics and Accounting 133
Chapter Review Questions 143
Cases 144
References 149
Chapter 6 Professional Ethics as a Resource for Decision Making 151
Accounting and Professional Ethics 152
Professional Ethics as a Resource to Make Accounting Decisions 152
Accounting as a Profession 153
Professional Ethics 156
Codes of Ethics as Tools for Decision Making 159
The Code of Ethics for Professional Accountants 160
Using Professional Ethics in Decision Making in Accounting 166
Summary 169
Review Questions 170
Cases 170
Chapter 7 Stakeholders in Accounting Ethics: Pressures and Conflicts of Interest 178
Accounting and Stakeholders 179
Stakeholders and their Influence on Accounting Decisions 180
Characteristics of Stakeholders 182
Classifying Stakeholders in Practice 185
Pressures on the Accountant in the Decision-Making Process 189
Conflicts of Interest 190
Summary 193
Chapter Review Questions 194
Cases 194
Cash Fraud 195
Long-Term Debt Fraud 196
Misappropriation of Assets 196
The Auditors 196
References 202
Chapter 8 Generating and Assessing Decision Alternatives: Practical Wisdom and Action 203
Introduction 204
Reflections on Our Decision Model 205
Year-End Adjusting Process, Adjusting Entries, Bad Debt Expense Estimates 206
A Violation of Accounting Standards? But Not an Ethical Problem? 213
Internal Controls and Embezzlement 215
To Bribe or Not to Bribe: That is the Question 216
Reflections on Case Analysis: Practical Wisdom and Deliberative Judgment 221
Human Motivation and Behavior: Incentives and Support for Ethical Action 224
Chapter Review Questions 225
Cases 225
References 232
PART III ACCOUNTING IN SOCIETY 233
Chapter 9 Auditing Ethics 235
The Role and Responsibilities of the Auditor 235
Values, Standards, and Virtues in the Professional Codes of Conduct 236
Audit Judgment 242
Appendix 260
Chapter Review Questions 263
Cases 263
References 269
Chapter 10 The Accountant in Society: Deciding for Ethical Action 270
Chapter Themes 271
The Individual Accountant: Making Ethical Decisions 271
The Social Context for the Accountant's Decision Making: The Ethical Domain 272
The Moral Structure of Accounting: Economic Events and Accounting Discourse 274
The Perception that Accounting is Only a Technical Craft, But Not an Ethical Practice 276
Professionalism in Social Context 277
The Accountant and the Profession in the Market and Society 279
The Mixed Good of Accounting Discourse: Market Values and Accounting Ethics 283
Market Values and Accounting Values: The Social Domain of Accounting Ethics 284
Market Values and the Function of Accounting 285
Social Contract Theory 288
Corporate Social Responsibility 291
Chapter Review Questions 293
References 294
Index 297
Includes a decision model which guides students through the process of ethical decision making.
Emphasizes the individual accountant's decision making on both technical and ethical matters.
A focus on technical competencies and the ability to apply knowledge is aided through the provision of exercises and cases.
Author team includes a blend of skills and experience: a philosopher, an accountant and an expert in business ethics.
Strong pedagogical framework that includes study questions, review lists of chapter 'take-ways', and review checklists of key ideas.
Provides an international perspective on fraud issues.