Acute Medicine: Clinical Cases Uncovered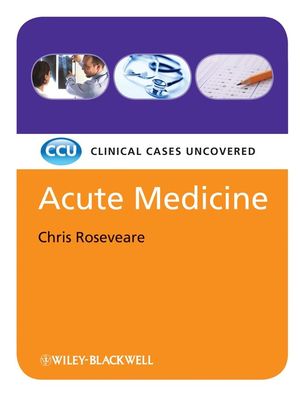 Acute Medicine: Clinical Cases Uncovered
ISBN: 978-1-405-16883-0 February 2009 Wiley-Blackwell 254 Pages
Description
Acute Medicine is the central part of foundation and specialist general medical training and is one of the most rapidly expanding UK hospital specialties.
Acute Medicine: Clinical Cases Uncovered combines patient cases and outcomes, drawn from real-life experiences, with reference to the curriculum for Training in General (Acute) Medicine. It provides self-assessment MCQs, EMQs and SAQs to give medical students, junior doctors, nurses and allied healthcare professionals the perfect preparation for life on the wards.
Table of contents
Preface vii
Acknowledgements ix
How to use this book x
List of abbreviations xi
Part 1 Basics 1
Introduction and specialty overview 1
Approach to the patient 5
Part 2 Cases 28
Case 1 A 45-year-old man with 'cardiac-type' chest pain 28
Case 2 A 35-year-old woman with 'pleuritic' chest pain 37
Case 3 A 50-year-old man presenting with palpitations 47
Case 4 A 60-year-old man with a broad complex tachycardia 56
Case 5 A 25-year-old woman with acute asthma 62
Case 6 A 60-year-old woman with an 'exacerbation' of chronic obstructive pulmonary disease 70
Case 7 An 86-year-old woman with acute shortness of breath 79
Case 8 A 68-year-old man presenting with shock 88
Case 9 A 55-year-old man with suspected upper gastrointestinal bleeding 94
Case 10 A 60-year-old man with diarrhoea 103
Case 11 A 37-year-old woman with sudden severe headache 111
Case 12 A 21-year-old man presenting following a seizure 118
Case 13 A 22-year-old unconscious man 125
Case 14 A 64-year-old man presenting with unilateral weakness 136
Case 15 A 60-year-old man presenting following a blackout 145
Case 16 A 45-year-old man with acute confusion 152
Case 17 An 81-year-old woman with acute confusion 158
Case 18 A 25-year-old woman with acute hyperglycaemia 166
Case 19 A 73-year-old man with abnormal renal function 173
Case 20 A 55-year-old man with pyrexia of unknown origin 182
Case 21 A 25-year-old woman admitted following an overdose 191
Case 22 A 35-year-old woman with an acutely swollen leg 200
Part 3 Self-assessment 205
MCQs 205
EMQs 211
SAQs 216
Answers 219
Appendix: Normal ranges units and common abbreviations for blood tests 229
Index of cases by diagnosis 231
Index 233
Colour plate section can be found facing p.148
Reviews
"Acute medicine is a part of the CCU series from Wiley which are a useful set of titles that allow the reader to encounter a range of acute medical conditions, 22 presentations that give the reader a reasonable overview. The start of the title is particularly useful as it goes over the ABCDE of acute triage of patients which is an essential skill to understand as a medical student approaching your finals and certainly as a doctor. Following this for the medical student the title usefully recaps history & examination skills for medicine before discussing important investigations and finally prior to the cases giving a lengthy easy to understand discourse on the ECG and how to interpret it.
After the cases there is a self assessment section that tests the reader on the knowledge that they should have based on what the title has covered. Having used this book in part to revise for my finals, I found the difficulty & style of these questions to be similar to and a good reflection of what was encountered within the finals examinations.
The disadvantage of this title I suppose is the small number of cases it has, although these cases cover a broad range of medical conditions/presentations that you could expect to encounter in the hospital there aren't that many. Other series such as the 100 cases series (by their title) cover a significantly greater number of clinical conditions/presentations, though not in as much detail, this may be more desirable to some.
In conclusion this series of titles is well worth considering using for preparing for your finals examinations and others as an undergraduate medical student. It may however be worth you considering borrowing the title from your medical school or other library first and if you feel it is worth adding to your personal library, then doing so." (Medical Student, Lancaster University)
"This is a great book for people who like solid answers to practical questions. Unlike some revision books this one is actually useful to doctors and not just medical students wanting to pass finals. It tackles common presentations, not rare conditions and is interesting to read." (The Murmer, August 2009)
Features
Covers Acute Medicine - the central part of foundation and specialist general medical training, as well as being recognized as a specialty in its own right
combines patient cases and outcomes, drawn from real-life experiences, with reference to the new JCHMT curriculum for acute and internal medicine

extensive use of MCQs, EMQs and SAQs to promote and aid self-assessment

each case uses a simple question, answer, and explanations format, revealing both the basic and clinical science to prepare would-be doctors for life on the wards