Adolescent Emotions: Development, Morality, and Adaptation: New Directions for Youth Development, Number 136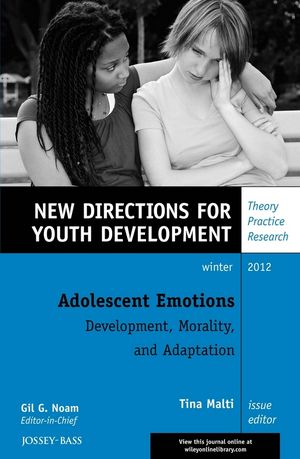 Adolescent Emotions: Development, Morality, and Adaptation: New Directions for Youth Development, Number 136
ISBN: 978-1-118-58088-2 March 2013 Jossey-Bass 112 Pages
Download Product Flyer
Download Product Flyer
Download Product Flyer is to download PDF in new tab. This is a dummy description. Download Product Flyer is to download PDF in new tab. This is a dummy description. Download Product Flyer is to download PDF in new tab. This is a dummy description. Download Product Flyer is to download PDF in new tab. This is a dummy description.
Description
Take an in depth look at how emotions relate to adolescents' decision making, reasoning, and behavior in morally relevant situations. It provides a summary of current research on emotions, morality, and adaptive behaviors. Furthermore, it discusses new approaches to research on emotions, morality, and socially adaptive behavior in adolescence. By doing so, the articles provide new insights into adolescents' emotional and moral development and show how emotions contribute to the way adolescents negotiate, resolve, and adapt to the moral and social conflicts that inevitably occur in their everyday lives. By integrating innovative perspectives from developmental, educational, and clinical research, this volume has much to offer for researchers, youth practitioners, and educators.


This is the 136th volume of New Directions for Youth Development, the Jossey-Bass quarterly report series dedicated to bringing together everyone concerned with helping young people, including scholars, practitioners, and people from different disciplines and professions.
Table of contents
Editor's Notes 1
Tina Malti
Executive Summary 7
1. Emotion and the moral lives of adolescents: Vagaries and complexities in the emotional experience of doing harm 13
Cecilia Wainryb, Holly E. Recchia
The authors address the diversity of adolescents' affective experiences following their own moral transgressions.
2. Adolescents' emotions and reasoning in contexts of moral conflict and social exclusion 27
Tina Malti, Sophia F. Ongley, Sebastian P. Dys, Tyler Colasante
For reasons of fairness and empathy, adolescents experience a variety of negative emotions when they intentionally harm or exclude others. Adolescents with higher sympathy are more likely to report feelings of guilt following these moral and social conflict situations.
3. Moral judgments and emotions: Adolescents' evaluations in intergroup social exclusion contexts 41
Shelby Cooley, Laura Elenbaas, Melanie Killen
The moral and emotional development of young people is informed by their social experiences and understanding of group dynamics. Due to the increasing salience of group membership in adolescence, youth today often weigh the consequences of resisting group norms. The authors provide new insights into the integration of emotional evaluations and moral judgments in the context of social exclusion in childhood and adolescence.
4. Linking moral emotion attributions with behavior: Why "(un)happy victimizers" and "(un)happy moralists" act the way they feel 59
Tobias Krettenauer
The author discusses conceptual links between moral emotion attributions and children's and adolescents' social behavior. He proposes three links that exemplify three forms of moral agency as they emerge over the course of children's and adolescents' moral development.
5. Behaving badly or goodly: Is it because I feel guilty, shameful, or sympathetic? Or is it a matter of what I think? 75
Gustavo Carlo, Meredith McGinley, Alexandra Davis, Cara Streit
The authors provide a brief review of moral psychological theory and predicting moral behaviors. They offer results that demonstrate support for both guilt-based and sympathy-based models and discuss the implications of their findings.
6. Adolescents' perceptions of institutional fairness: Relations with moral reasoning, emotions, and behavior 95
William F. Arsenio, Susanna Preziosi, Erica Silberstein, Benjamin Hamburger
The authors address low-income urban adolescents' perceptions regarding the fairness of American society and how those perceptions relate to interpersonal moral reasoning, emotions, and behavior.
7. Mindfulness for adolescents: A promising approach to supporting emotion regulation and preventing risky behavior 111
Patricia C. Broderick, Patricia A. Jennings
Adolescents require effective emotion regulation skills to navigate the psychological and environmental challenges of their developmental period. Mindfulness, as taught in universal prevention programs such as Learning to BREATHE, is a promising tool in reducing distress and promoting resilience.
Index 127