Aging, Cancer and Age-related Disease: Common Mechanisms?, Volume 1197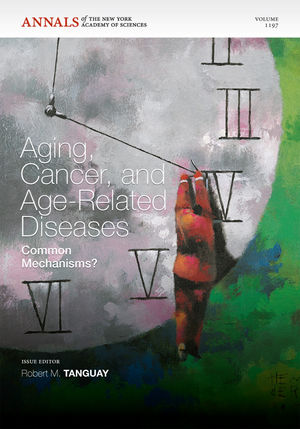 Aging, Cancer and Age-related Disease: Common Mechanisms?, Volume 1197
ISBN: 978-1-573-31796-2 August 2010 Wiley-Blackwell 300 Pages
Description
This volume recognizes the rapidly expanding research linking aging, age-related diseases, and the delicate balance between neurodegeneration and cancer.  Wide perspectives on aging are covered, ranging from metabolic and cellular interventions in aging, oxidative stress resistance, protein folding and quality control, as well as the troublesome relationship between prevention of chaperonopathies and the risk for cancer.
Key Features:
Explores current research linking aging, age-related diseases, neurodegeneration, and cancer. 
Includes papers presented at 13th Congress of the Association of Biomedical Gerontology
Part of the Annals of the New York Academy of Sciences series
This book is ideal for Graduate students and researchers in the fields of biomedical gerontology, cell and molecular biology, neuroscience, and oncology.
NOTE: Annals volumes are available for sale as individual books or as a journal. For information on institutional journal subscriptions, please visit www.blackwellpublishing.com/nyas.
ACADEMY MEMBERS: Please contact the New York Academy of Sciences directly to place your order (www.nyas.org). Members of the New York Academy of Science receive full-text access to the Annals online and discounts on print volumes. Please visit http://www.nyas.org/MemberCenter/Join.aspx for more information about becoming a member.