Aphids on the World's Crops: An Identification and Information Guide, 2nd Edition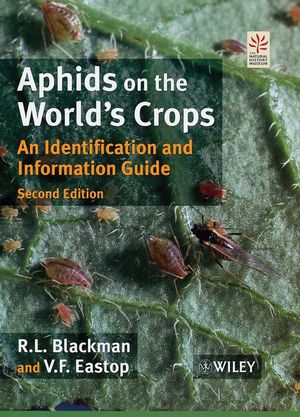 Aphids on the World's Crops: An Identification and Information Guide, 2nd Edition
ISBN: 978-0-471-85191-2
Feb 2000
476 pages
Description
Fully revised and updated, this new edition of 'Aphid's on the World's Crops' is the only publication to provide non-specialist workers wherever they are in the world, with an identification guide and an information source on one of the main groups of agriculturally important insects. It incorporates:

* The latest information on the biology and distribution of both major and minor aphid pest species covering 455 species in 130 genera.

* 40 additional crops, bringing the total to almost 300

* More aphid species in the keys

* Approximately 500 new references

It features those aspects of the biology of aphids most relevant to their taxonomy and identification, followed by a crop-oriented illustrated identification guide. It also includes a comprehensive, systematic account of the genera and species of aphids inhabiting crop plants.

Comprehensively written by leading authorities in the world, it includes user-friendly identification keys with many illustrations, a summary of the techniques available for studying aphids, a list of further information sources and a photographic guide to the 150 most economically important species.

It will be a reliable and invaluable reference tool for economic, applied and agricultural entomologists at universities, research institutes and advisory centres throughout the world.
INTRODUCTORY SECTION.

Introduction and Aims of the Book.

Systematics.

Life Cycles.

Host-Plant Relationships.

Geographical Distribution.

Morphology and Key Characters.

THE CROPS AND THEIR APHIDS.

Notes on the Use of this Section.

List of Crop Plants and their English Names.

Lists and Keys to Aphids on Each Crop.

THE APHIDS.

Introduction to the Section.

Systematic Treatment of Genera (Alphabetical).

TECHNIQUES.

Collecting.

Preservation and Mounting.

Labelling and Storage.

SOURCES OF INFORMATION.

Regionally Classified Faunal Works.

General Biology.

Morphology, Anatomy and Physiology.

Genetics and Development.

Migration and Dispersal.

Relationships with Other Insects.

Host-Plant Relationships.

Control.

Bibliographies.

REFERENCES.

PHOTOGRAPHIC GUIDE.