Applied Ethics: A Non-Consequentialist Approach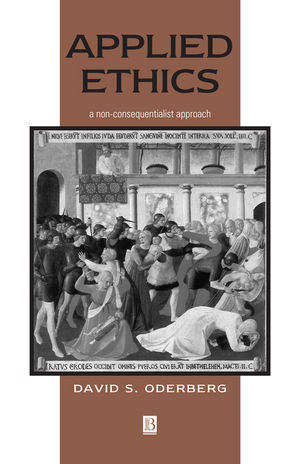 Applied Ethics: A Non-Consequentialist Approach
ISBN: 978-0-631-21905-7 February 2000 Wiley-Blackwell 264 Pages
Description
Applied Ethics focuses the central concepts of traditional morality - rights, justice, the good, virtue, and the fundamental value of human life - on a number of pressing contemporary problems, including abortion, euthanasia, animals, capital punishment, and war.
Table of contents
Preface and Acknowledgements.
Part I: Abortion:.
1. The Problem of Abortion Today.
2. The Basic Argument and Some Responses.
3. Sentience: A Bad Argument Against Abortion.
4. A Return to the Basic Argument.
Objection from Brain Activity.
Objection from Sorites Paradoxes.
Objection from Begging the Question.
Objection from Sperm and Egg.
Objection from Fission and Totipotency.
Objection from Cloning and Parthenogenesis.
5. A Feminist Argument for Abortion.
6. The Foetus, the Person and the Person.
7. Abortion, the Law and the Public Good - a Concluding Note.
'I Personally Disapprove of Abortion But Would Not Impose my Opinion on Other People.'.
'It is Not the Business of the Law to Interfere with Such a Difficult Decision.'.
The 'Backstreet' Objection.
8. Conclusion.
Part II: Euthanasia:.
9. Introduction.
10. Varieties of Euthanasia.
11. Voluntary Euthanasia and Autonomy.
12. Non-Voluntary Euthanasia and 'Quality of Life'.
13. Active and Passive Euthanasia.
14. Ordinary and Extraordinary Means.
15. Euthanasia, Death and 'Brain Death'.
16. Euthanasia and Nazism.
Part III: Animals:.
17. The Problem.
18. The Conditions for Rights - What They Are Not.
Consciousness.
Beliefs and Desires.
Language.
Self-Consciousness.
Action in Pursuit of Desires and Goals.
19. The Conditions for Rights - What They Are.
Knowledge of Purpose.
Free Will.
20. Two Dilemmas for the View that Animals Have Rights.
21. So How Should we Treat Animals?.
Part IV: Capital Punishment:.
22. A Conflict?.
23. Punishment - General Principles.
24. Capital Punishment - the Argument.
25. Objections.
What if an Innocent Person is Executed?.
Capital Punishment is Irreversible.
Capital Punishment is not a Deterrent.
Capital Punishment is Just State-Sanctioned Murder.
Capital Punishment is Cruel and Inhuman.
What about Mercy and Compassion?.
Capital Punishment Fails to Respect Persons.
26. Concluding Remarks on Hypocrisy.
Part V: War:.
27. Some Questions.
28. War, Pacifism and Self-Defence.
Self-Defence - Basic Principles.
29. Going to War.
Basic Principles of the Just War.
Just Cause.
Questions about the Justice of the Cause.
Conduct During War.
30. Globalism.
Notes and Further Reading.
Reviews
"The best accessible guide to "just war" theory, and the whole Aquinas approach to philosophy, is
Applied Ethics
by David S. Oderberg, published by Blackwell."
Michael Gove, The Times, September 26, 2001
<!--end-->
"It is a robust and uncompromising defence of traditional values." Stuart Reid, The Spectator, 25th November 2000

"Not the least merit of Oderberg's treatment of [the themes in Applied Ethics] is attention to the detail of realistic cases. This is casuistry in the true sense, designed to reveal and develop the lineaments of our actual moral thinking..." Anthony O'Hear, Salisbury Review

"Oderberg's discussion of [the] issues is rich and thought provoking. [The] work is, even for non-believers, an important and engaging statement of non-consequentialist moral theory" Kaspar Lippert-Rasmussen, The Philosophical Quarterly, vol. 51, no. 204, July 2001

"...very carefully written work that contributes to the diversification of literature available for bioethical formation and which intervenes critically in the ongoing bioethical debate in western societies." Medicine, Health Care and Philosophy, Vol. 6, 2003
Features
* integrates traditional morality as discussed in Moral Theory and applies it to contemporary controversies such as abortion, euthanasia, animal rights, capital punishment and war.

* presents a controversial non-consequentialist view of ethics that will provoke lively debate among liberal moral philosophers such as Peter Singer and his proponents