Arab Media: Globalization and Emerging Media Industries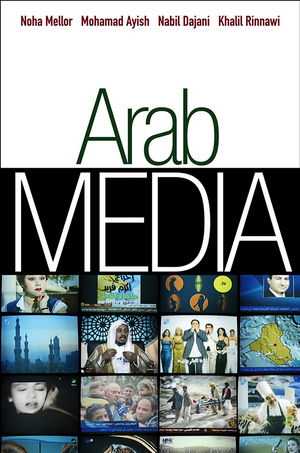 Arab Media: Globalization and Emerging Media Industries
ISBN: 978-0-745-64535-3 April 2011 Polity 256 Pages
Description
This book provides a clear and authoritative introduction to the emerging Arab media industries in the context of globalization and its impacts, with a focus on publishing, press, broadcasting, cinema and new media. Through detailed discussions of the regulation and economics of these industries, the authors argue that the political, technological and cultural changes on the global media scene have resulted in the reorganization of the Arab media field. They provide striking examples of this through the particular effects on media policies, media technology and the content and genres developed for the new generation of media consumers.
As part of the book's overview of the contemporary characteristics of Arab media, the authors outline the development of the role of modern Arab media from a tool of mobilizing the public to a tool of commercial and symbolic profit. Overall, the volume illustrates how the Arab region represents a unique case where the commercialization and liberalization of selected media industries has gone hand in hand with continuous state intervention and an increasing self censorship.
Written for students without prior knowledge of the topic, Arab Media will be essential reading for all interested in the contemporary global media industries.
Cannot be combined with any other offers.
Table of contents
Introduction.
Chapter One - Arab media: an overview of recent trends.
Chapter Two - Arabic books.
Chapter Three - Arab Press.
Chapter Four - Radio Broadcasting in the Arab World.
Chapter Five - Television Broadcasting in the Arab World.
Chapter Six - Arab cinema.
Chapter Seven - Arab Internet: Schizophrenic Trilogy.
Chapter Eight - When Global Meets Local.
References.
Reviews
"What makes Arab Media a particularly engaging book is the fact that it does not shy away from placing Arab social and cultural politics at the heart of discussions on technology and its uses ... It is accessible, focused and presents engaging arguments on a range of crucial topics."
New Formations

"Provides an in-depth, comprehensive and up-to-date analysis of all forms of Arab media in light of the current technological, political and socio-economic leaps that are being witnessed in the globalization era. A highly needed contribution and a great read for media scholars and students."
Mohammed el-Nawawy, Queens University of Charlotte

"Offers a useful overview of an array of media channels in the Arabic-speaking world. Authored by leading scholars in the field, the book discusses the trials and tribulations of the Arab media, their role in state-building, regional inter-state rivalries, social change and counter-hegemony. It will be of great interest to regional specialists and others from a variety of inter-disciplinary backgrounds."
Yasir Suleiman, Cambridge University
Features
A clear and authoritative introduction to the emerging Arab media industries.
Covers a range of industries, with particular focus on broadcasting, press, publishing, cinema and new media.
Written by an experienced author team, with broad language and subject coverage.
Places commercial and industrial dynamics in their particular social and political contexts.