Battlestar Galactica and Philosophy: Knowledge Here Begins Out There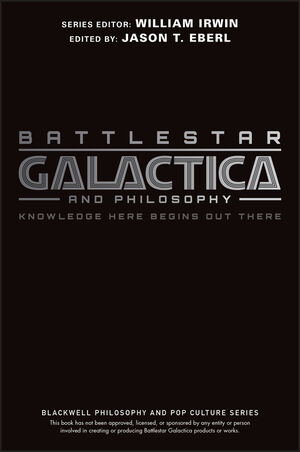 Battlestar Galactica and Philosophy: Knowledge Here Begins Out There
ISBN: 978-1-405-17814-3 February 2008 Wiley-Blackwell 288 Pages
Description
What's the point of living after your world has been destroyed? This is one of many questions raised by the Sci-Fi Channel's critically acclaimed series
Battlestar Galactica
. More than just an action-packed "space opera," each episode offers a dramatic character study of the human survivors and their Cylon pursuers as they confront existential, moral, metaphysical, theological, and political crises.
This volume addresses some of the key questions to which the Colonials won't find easy answers, even when they reach Earth: Are Cylons persons? Is Baltar's scientific worldview superior to Six's religious faith? Can Starbuck be free if she has a special destiny? Is it ethical to cut one's losses and leave people behind? Is collaboration with the enemy ever the right move? Is humanity a "flawed creation"? Should we share the Cylon goal of "transhumanism"? Is it really a big deal that Starbuck's a woman?
Table of contents
Giving Thanks to the Lords of Kobol.
"There Are Those Who Believe …".
Part I Opening the Ancient Scrolls: Classic Philosophers as Colonial Prophets.
Erik D. Baldwin, How to be Happy After the End of the World.
Robert Sharp, When Machines Get Souls: Nietzsche on the Cylon Uprising.
J. Robert Loftis, "What a Strange Little Man": Baltar the Tyrant?.
Jason P. Blahuta, The Politics of Crisis: Machiavelli in the Colonial Fleet.
Part II I, Cylon: Are Toasters People, Too?.
Robert Arp and Tracie Mahaffey, "And They Have a Plan": Cylons as Persons.
Amy Kind, "I'm Sharon, but I'm a Different Sharon": The Identity of Cylons.
Jerold J. Abrams, Embracing the "Children of Humanity": How to Prevent the Next Cylon War.
Brian Willems, When the Non-Human Knows Its Own Death.
Part III Worthy of Survival: Moral Issues for Colonials and Cylons.
Randall M. Jensen, The Search for Starbuck: The Needs of the Many vs. the Few.
Andrew Terjesen, Resistance vs. Collaboration on New Caprica: What Would You Do?.
George A. Dunn, Being Boomer: Identity, Alienation, and Evil.
David Roden, Cylons in the Original Position: Limits of Posthuman Justice.
Part IV The Arrow, the Eye, and Earth: The Search for a (Divine?) Home.
Jason T. Eberl and Jennifer A. Vines, "I Am an Instrument of God": Religious Belief, Atheism, and Meaning.
Taneli Kukkonen, God Against the Gods: Faith and the Exodus of the Twelve Colonies.
David Kyle Johnson, "A Story That Is Told Again, and Again, and Again": Recurrence, Providence, and Freedom.
Eric J. Silverman, Adama's True Lie: Earth and the Problem of Knowledge.
Part V Sagittarons, Capricans, and Gemenese: Different Worlds, Different Perspectives.
James McRae, Zen and the Art of Cylon Maintenance.
Elizabeth F. Cooke, "Let It Be Earth": The Pragmatic Virtue of Hope.
Sarah Conly, Is Starbuck a Woman?.
David Koepsell, Gaius Baltar and the Transhuman Temptation.
There Are Only Twenty-Two Cylon Contributors.
The Fleet's Manifest
Reviews
"The contributors to Battlestar Galactica and Philosophy strive to make things relevant to fans of the show, and they put their information ou t in a way that is accessible to folks who wouldn't know Heidegger from Heineken." (
Green Man Review
, Spring 2009)
"Blackwell's Philosophy and PopCulture series sets itself the remarkable task of making phi­losophy "relevant," lamenting the subject's ongoing "public relations problem" and resolving to change things for the better. …[I]f this volume is indicative of the series as a whole then I will happily review each and every one, for I found it to be, by and large, a stimulating and worthwhile read… Philosophy, it seems, is no longer under the guardianship of office-bound professors fluent in Latin but ignorant of popular culture. Jason T. Eberl's "ragtag fleet" of contributors has helped in some small way to redress the balance, and I for one applaud their efforts." (Claire Graham, Kaleidoscope, October 2008)
"The essays are … quite good, and to me they seem to satisfactorily serve the purpose of introducing fans of BSG to classic and contemporary philosophical problems and questions, and even professional philosophers might learn a thing or two. The essays in the anthology are both accessible and quite easy to read, and can be commended to those interested in philosophy and Battlestar Galactica." (Metapsychology, October 2008)
"The writers are well versed in their subjects … .The book is most effective at making the reader rethink what they thought they knew." (Neo-opsis)
Features


Explores philosophical issues arising from the re-imagined Battlestar Galactica
television series (recently renewed for a fourth season, which will air on Sky One in the UK and on the US Sci Fi channel in 2008)

Demonstrates how the "ragtag" fleet's outward journey to Earth is also an inward
exploration for the human survivors and their Cylon pursuers

Reveals how every character wrestles with existential, moral, metaphysical, theological, and political crises

Addresses some of the key questions that even the Colonials won't find easy answers to when they reach Earth, such as: "Is it ethical to cut one's losses and leave people behind?"; "Is collaboration with the enemy ever the right move?", "Is it okay to lie to give people hope?" and "Is humanity a 'flawed' creation?"