Becoming a Nurse in the 21st Century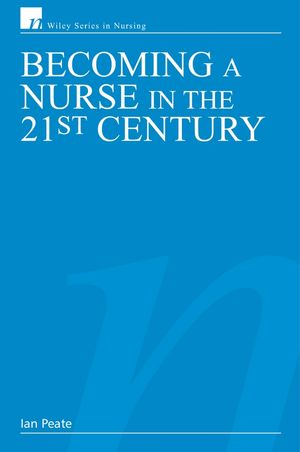 Becoming a Nurse in the 21st Century
ISBN: 978-0-470-03013-4 July 2006 522 Pages
Description
This is an accessible guide aimed at student nurses, introducing them, and guiding them through the Nursing and Midwifery Council's approved programmes of education for Registered Nurse status. Every programme of study that prepares a student to become a proficient registered nurse must be approved by the NMC and adhere to its standards and guidelines.
The book is broken in to four sections based on the four proficiencies stated by the NMC: Professional and Ethical Practice; Care Delivery; Care Management and Personal and Professional Development. It presents these proficiencies in an easy to understand and implement way, making it easily accessible for both students, and registered nurses who will find it a useful reference for their work and development.
Table of contents
Author.
Acknowledgments.
Introduction.
I: Professional and Ethical Practice.
1. Professional Practice.
2. Ethical and legal issues.
3.  Diversity and culture.
II: Care Delivery.
4. Therapeutic relationships.
5. Health promotion.
6. Assessment of needs.
7. Partnerships.
8. Evidence based practice.
9. Socio cultural issues.
10. Evaluating care.
11. Clinical decision making.
III: Care Management.
12. Quality care.
13. Inter-professional working.
14. Competence, accountability and delegation.
15. Key skills.
IV: Personal and Professional Development.
16. Continuing professional development.
17. Teaching and learning in clinical practice.
Review Responses.
Glossary of terms.
Abbreviations Commonly Used in Health Care.
Index.
Reviews
" I think the content and material is excellent it includes relevant material and some extra without material overload! I think the size is perfect, it's handy and manageable not too heavy and it fits in my handbag which is always a bonus! I will definitely be making recommendations to my friends and will maybe even suggest it to some of my lecturers to see what they think (to consider it as a reading list recommendation). I look forward to the next edition!"
(2
nd
year nursing student, University of Ulster)
"I cannot fault the content– it is straight to the point, it provides some interesting resources for a student nurse that is essential for them to know, as well as some things which may not be essential but may be interesting – such as the history of nursing, which was completely new to me and a joy to read." (2nd year nursing student, Keele University)
 "It's been designed for students and that's why I like it.Its layout is fantastic, very clear and a lot of literature to back up research. Each chapter is detailed which I cannot fault.It's student friendly, useful, easy to read." (2nd year nursing student, Swansea University)
 "The content is superb. This book is full of very user friendly chapters with lots of valuable advice , to support students  with what they are reading which makes it a valuable resource." (Jean Nhemachena, Head of Pre-Registration Adult Nursing, University of Huddersfield)
 "Clear, concise, well organized, systematic, comprehensive and clearly linked to the NMC standards." (Paul Regan, Lecturer in adult nursing, University of Central Lancashire)
 "I like this book very much and find all of the chapters focused and well written and have no hesitation recommending this to student nurses.   This text is useful throughout the pre –registration programme." (Anne Manning, Senior Lecturer in Adult Nursing, City University London)