Behavioral Finance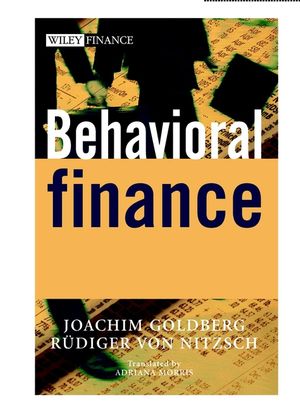 Behavioral Finance
ISBN: 978-0-471-49784-4 January 2001 240 Pages
Description
This fascinating book explains the new science of behavioral finance. It demonstrates clearly how behavior-orientated analysis of the financial markets can explain and account for fundamental principles in technical analysis. The book is divided into the following chapters, each offering practical analysis and advice;
Forecasts, An analysis of exposure, Dams to combat the flood of information, Everything is relative, People like to see themselves in a favorable light, Everyone is different and Free advice - valuable tips for successful trades.
Table of contents
Preface.

Forecasts: Fundamentals, Technical Analysis and Behavioral Finance.
An Analysis of Exposure: Desire and Reality.
Dams to Combat the Flood of Information: Strategies for Controlling Difficult Situations.
Everything is Relative -
Even the Evaluation of Gains and Losses.
People Like to See Themselves in a Favorable Light: The Consequences of Psychological Needs.
Everyone is Different: Three Types of Market Participant.
Free Advice: Valuable Tips for Successful Trades.

References.

Further Reading.

Index.