Bosch Automotive Handbook, 10th Edition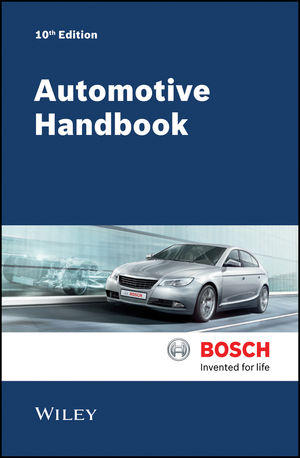 Bosch Automotive Handbook, 10th Edition
ISBN: 978-1-119-53081-7 December 2018 1750 Pages
Description
Bosch's definitive automotive engineering reference – fully updated for the latest automotive technology and trends

The Bosch Automotive Handbook is the flagship publication in Bosch's handbook series on automotive technologies and is an indispensable resource for automotive engineers, designers, technicians, and students alike. From its first release in 1936, the Bosch Automotive Handbook has grown from a 96-page pamphlet to an information-packed 1,750-page pocket reference.

The latest edition includes 200 pages of new content, including:
Coverage of autonomous vehicles
Detailed technical analysis and industry insights
More than 1,000 diagrams, illustrations, sectional drawings, and tables
Handy conversion charts and an easy-to-search topic index
Contributions from leading automotive manufacturers, industry experts, and Bosch itself
Whether you're a garage mechanic, design engineer, automotive professional, or a car enthusiast, the
Bosch Automotive Handbook
is your quick and easy guide to all things automotive in this fast-paced and ever-evolving industry.