Brewing Yeast and Fermentation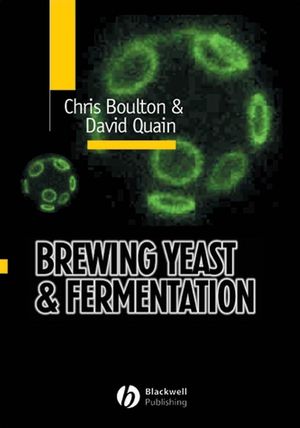 Brewing Yeast and Fermentation
ISBN: 978-1-405-15268-6 March 2006 Wiley-Blackwell 660 Pages
Description
Now Available for the First Time in Paperback!
This unique volume provides a definitive overview of modern and traditional brewing fermentation. Written by two experts with unrivalled experience from years with a leading international brewer, coverage includes all aspects of brewing fermentation together with the biochemistry, physiology and genetics of brewers' yeast. Brewing Yeast and Fermentation is unique in that brewing fermentation and yeast biotechnology are covered in detail from a commercial perspective.
Now available for the first time in paperback, the book is aimed at commercial brewers and their ingredient and equipment suppliers (including packaging manufacturers). It is also an essential reference source for students on brewing courses and workers in research and academic institutions.
Definitive reference work and practical guide for the industry.
Highly commercially relevant yet academically rigorous.
Authors from industry leading brewers.
Cannot be combined with any other offers.
Table of contents
Preface x
Acknowledgements xii
1 Beer and brewing 1
1.1 Introduction 1
1.2 Historical perspective 5
1.3 Current developments 15
1.4 Legislation 17
2 The brewing process 19
2.1 Overview 19
2.2 Beer types 19
2.3 The brewing process 29
2.4 Wort composition 46
2.5 High-gravity brewing 60
2.6 Glossary of brewing terms 63
3 The biochemistry of fermentation 69
3.1 Overview 69
3.2 Mass balance 71
3.3 Assimilation of wort nutrients 73
3.4 Carbohydrate dissimilation 81
3.5 Requirement for oxygen 97
3.6 Ethanol tolerance 108
3.7 Formation of flavour compounds 113
4 Brewing yeast 143
4.1 Morphology, cytology and cellular function 143
4.2 Taxonomy and differentiation 158
4.3 Genetics ± genome, cell cycle and modification 194
4.4 Cell wall and flocculation 237
5 Fermentation systems 260
5.1 General properties of fermentation vessels 260
5.2 Fermentation rooms 279
5.3 Traditional fermentation systems 284
5.4 Large-capacity fermenters 290
5.5 Accelerated batch fermentation 314
5.6 Continuous fermentation 316
5.7 Immobilised systems 346
5.8 Pilot scale fermentation systems 369
5.9 Laboratory fermentation systems 370
6 Fermentation management 377
6.1 Wort collection 377
6.2 Post-collection additions 402
6.3 Monitoring fermentation progress 404
6.4 Fermentation control 422
6.5 Fermentation management 445
6.6 Recovery of carbon dioxide 453
6.7 Yeast recovery 455
6.8 Fermenter run-down 461
6.9 Secondary fermentations 464
7 Yeast management 468
7.1 Laboratory yeast storage and supply 468
7.2 Yeast propagation 474
7.3 Yeast handling in the brewery 486
7.4 Assessing yeast condition 496
7.5 Surplus yeast 508
8 Microbiology 510
8.1 Product spoilage 510
8.2 Minimising the risk 537
8.3 Sampling and testing 565
References 586
Index 638
Reviews
"… easily the most comprehensive book on the subject, now reissued in paperback at a more accessible price. The wealth of detail is extraordinary and the scholarship displayed by the authors, who between them have over 50 years experience of microbiological research in the brewing industry, is exemplary. …[a] splendid, well produced and clearly illustrated book. It will continue to be the definitive text for the foreseeable future."
Microbiology Today, November 2006
"This is a "must-have" book [and] will be used as a prime reference text for many years… should be in every brewing library, and on the bookshelf of anyone who has an interest in brewing yeast and fermentation at the advanced level…it has very rapidly become the first reference book I turn to when looking for detailed information on yeast…highly recommended"
Inge Russell, Journal of The Institute of Brewing Vol 109, No. 2, 2003

".a valuable resource for researchers in industry or academia interested in beer fermentation. "
Journal of Food Quality, Vol 25:3, Food & Nutrition Press Inc.

"Recommended to all researchers with an interest in yeast technology and brewing fermentation"
E-Streams, 2002

"This book provides a definitive review of modern and traditional brewery fermentation." Cerevisia, Belgian Journal of Brewing and Biotechnology, Vol 30, 2005
Features


Definitive reference work and practical guide for the industry.


Highly commercially relevant yet academically rigorous.


Authors from industry leading brewers.