Bulk Crystal Growth of Electronic, Optical and Optoelectronic Materials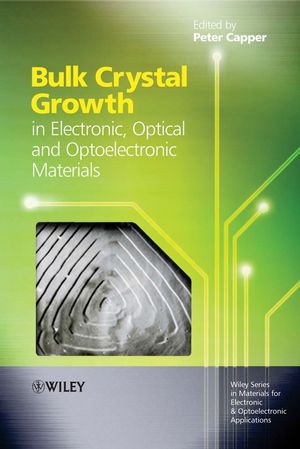 Bulk Crystal Growth of Electronic, Optical and Optoelectronic Materials
ISBN: 978-0-470-85142-5 February 2005 574 Pages
Description
A valuable, timely book for the crystal growth community, edited by one of the most respected members in the field.
Contents cover all the important materials from silicon through the III-V and II-IV compounds to oxides, nitrides, fluorides, carbides and diamonds

International group of contributors from academia and industry provide a balanced treatment

Includes global interest with particular relevance to: USA, Canada, UK, France, Germany, Netherlands, Belgium, Italy, Spain, Switzerland, Japan, Korea, Taiwan, China, Australia and South Africa
Table of contents
Series Preface.
Preface.
Acknowledgments.
List of Contributors.
Abbreviations.
1. Silicon (T. Hibiya and K. Hoshikawa).
2. Growth of Gallium Arsenide (M.R. Brozel and I.R. Grant).
3. Computer Modelling of Bulk Crystal Growth (A. Yeckel and J.J. Derby).
4. Indium Phosphide Crystal Growth (I.R. Grant).
5. The Bulk Growth of InSb & Related Ternary Alloys (W.F.H. Micklethwaite).
6. GaN Bulk Substrates Grown Under Pressure from Solution in Gallium (I. Grzegory, M. Bochowski and S. Porowski).
7. Bulk Growth of Cadmium Mercury Telluride (CMT) (P. Capper).
8. Bulk Growth of CdZnTe/CdTe Crystals (R. Hirano and H. Kurita).
9. Bulk Crystal Growth of Wide-gap II Vls (M. Isshiki and J.F. Wang).
10. Sapphire Crystals Growth and Application (V.A. Tatartchenko).
11. Crystal Growth of Flourides (P.P. Fedorov and V.V. Osiko).
12. Scintillators. Crystal Growth and Scintillator Performance (Gektin).
13. Growth of Quartz Crystals (K. Byrappa).
14. Crystal Growth of Diamond (H. Kanda).
15. Growth of Silicone Carbide (T.S. Sudarshan, D. Cherednichenko and R. Yakimova).
16. Photovoltaic Silicon Crystal Growth (T.F. Ciszek).
17. Bulk Crystal Growth under Microgravity Conditions (T. Duffar).