Burning the Ships: Transforming Your Company's Culture Through Intellectual Property Strategy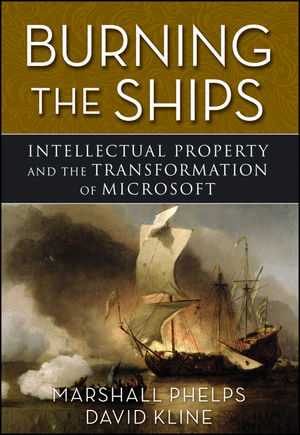 Burning the Ships: Transforming Your Company's Culture Through Intellectual Property Strategy
ISBN: 978-0-470-43215-0
Apr 2009
208 pages
Description
Now in paperback, the inside story of "the greatest transformation of Microsoft since it became a multinational company"
Marshall Phelps's remarkable eyewitness story offers lessons for any executive struggling with today's innovation and intellectual property challenges. Burning the Ships offers Phelps's dramatic behind-the-scenes account of how he overcame internal resistance and got Microsoft to open up channels of collaboration with other firms.
Discover the never-before-told details of Microsoft's secret two-year negotiations with Red Hat and Novell that led to the world's first intellectual property peace treaty and technical collaboration with the open source community
Witness the sometimes-nervous support Bill Gates and CEO Steve Ballmer gave to Phelps in turning their company around 180 degrees from market bully to collaborative industry partner
Offers an extraordinary behind-the-scenes view of the high-level deliberations of the company's senior-most executives, the internal debates and conflicts among executives and rank-and-file employees alike over the company's new collaborative direction
There are lessons in this book for executives in every industry-most especially on the role that intellectual property can play in liberating previously untapped value in a company and opening up powerful new business opportunities in today's era of "open innovation." Here is a powerful inside account of the dawn of a new era at what is arguably the most powerful technology company on earth.
About the Authors.
Acknowledgments.
Introduction.
Chapter 1 The Collaboration Imperative.
Chapter 2 Like Cortez Burning His Ships.
Chapter 3 Money Isn't Money Anymore.
Chapter 4 A Very Secret Mission.
Chapter 5 Leadership Starts at the Top.
Chapter 6 The Road Ahead (with Apologies to Bill Gates).
Index.
"This is a book as much about teams and organizations managing conflict brought on by significant change as it is about intellectual property (IP). Intertwined throughout a series of engaging and personal stories - showing how Microsoft instituted a strategic personality makeover from a monopolisitc bully to a respected collaborative partner - are lessons that every business person can use in building and implementing diverse teams to meet clear strategic objectives.Anyone who invests the short time to indulge the personal stories of this book will come away with a renewed sense of commitment to implementing fully cross-functional teams, as Phelps clearly shows as a key element to the successful transformation of a software powerhouse "going it alone" to spurring innovation and economic progress benefitting all of society." (
Journal of Product Innovation Management
, 2010; 27)
"Phelps (corporate vice president for intellectual property policy & strategy, Microsoft) and journalist Kline (Rembrandts in the Attic) have written a brisk and engaging book about Microsoft's radical overhauling of its intellectual property (IP) strategy. Phelps, the principal architect of this new strategy, gives the reader an insider's perspective on his struggle to overcome Microsoft's traditional use of its intellectual property as a "weapon" against competitors and to transform the company into a key player in the new business environment of "open innovation….the book is worth reading for its portrait of a major corporation undergoing massive change and for its lucid explanations of IP business strategy. Recommended for serious business readers." (Library Journal, July 15, 2009)
"Could Microsoft's ability to produce intellectual property be the company's future salvation? A few weeks ago, I complained that Microsoft wasn't innovating. Yet the book Burning the Ships talks of Microsoft's burgeoning intellectual property treasure chest. Burning the Ships shows the way to another outlet for Microsoft's innovation. Instead of trying to hold their intellectual property close to the vest, Microsoft is beginning to open up the IP treasure chest and let others try to do the work of bringing those products to market." (InformationWeek, June 1, 2009)