Career Planning for Research Bioscientists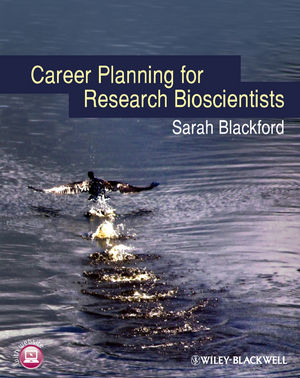 Career Planning for Research Bioscientists
ISBN: 978-1-405-19670-3 October 2012 Wiley-Blackwell 192 Pages
Description
Career Planning for Research Bioscientists is an essential careers guide for bioscience doctoral students and postdoctoral researchers. It contains a wealth of information and resources specifically targeted at research bioscientists, with practical strategies to enhance career success in an increasingly competitive job market. Advice on how to write a winning CV together with examples adapted for different jobs is presented, as well as practical exercises to assist with skills analysis and decision making.  Profiles of PhD-qualified bioscienstists in a range of professions including academic research, industry, science communication, management and consultancy provide valuable insights into how others have managed their careers, and tactics such as networking and using social media demonstrate how new opportunities can be discovered. The content of this book is aimed primarily at research bioscientists, however much of the advice and information will be a useful reference for other students and researchers looking for an effective career planning strategy.
A companion website with additional resources is available at www.wiley.com/go/blackford/careerplanning and you can visit Sarah Blackford's blog at www.biosciencecareers.org for more information.
Author ' s note ix
Acknowledgements xi
1. Introduction 1
Who is this book for? 1
The process of career planning 3
Helping you with your career planning 3
Content of the book 4
How to use this book 5
2. Planning your career 7
The importance of career planning 7
What is career planning? 8
Career planning in action 10
Conclusion 10
3. Self?]awareness 13
What is self-awareness? 13
Practical ways to analyse your 'self' and increase self-awareness 15
Conclusion 29
4. The job market 31
Career sectors 32
Examples of job advertisements 34
Analysis of job advertisements 40
Self-employment 43
Where are the jobs? 44
Conclusion 51
5. Enhancing your employability 53
The changing nature of work 53
Taking responsibility 53
Taking a proactive approach 54
Planned happenstance 55
Personal and professional development 55
Conclusion 64
6. Making applications 67
Employer perspective 67
Presenting a professional image 68
Methods of application 69
Conclusion 82
7. Successful interview technique 83
Types of interviews 83
Interview content: what questions will you be asked? 87
Answering the questions 90
Thinking of questions to ask the interviewer 91
Preparation 91
If you are offered the job 92
If you are not offered the job 93
Conclusion 94
8. Decision making and action planning 95
Careers in research 95
Other career options 96
Decision making 97
Taking action 98
Turning decisions into action 99
Conclusion 102
Afterword 103
Appendix 1: Career narratives 105
Summaried list career narratives 105
1. Michel : professor, US university 106
2. Teresa : research fellow, Austrian university 109
3. John : lecturer, UK university 110
4. Andrew : lead scientist, protein design team, large agribiotechnology company 113
5. John : scientific team leader, drug metabolism and pharmacokinetics (DMPK), global contract research organisation 114
6. Joanna : product and R&D manager, small biotech company 116
7. Petra : scientific adviser, protein interaction services company 117
8. Ann : president and chief executive officer, small immunoreagent company 119
9. Yfke : senior medical writer, medical vii communications agency 120
10. Carol : freelance science editor, writer and training consultant 122
11. Mary : features editor, Teaching Tools in Plant Biology (learned journal) 124
12. Linda : teacher training co-ordinator, public research institute 126
13. Ruth : freelance science journalist 127
14. David : research associate, Committee on Science, Engineering, and Public Policy, National Academy of Sciences; Outreach Committee Co-chair, AAAS Science and Human Rights Coalition 12915. Edward : clinical trial co-ordinator, university cancer trial centre 131
16. Miguel : patent examiner, European Patent Office 133
17. Florent : scientific officer, Marie Curie Actions, European Commission 135
18. John : healthcare analyst, self-employed partnership 136
19. Annie : technology consultant, international technology consultancy 138
20. Ian : sound engineer, production services provider 140
Appendix 2: Social media 143
Appendix 3: Example CVs 151
Appendix 4: Support and resources 167
Index 175
"This book provides sound advice and brings together the many factors which are essential for job acquisitions and promotions."  (British Ecological Society Bulletin, 1 August 2013)
"This book is an excellent guide for all early-career bioscience researchers and can be read from cover to cover or dipped in and out of as required . . . I cannot recommend this book highly enough and will certainly be applying much of the advice given within it to my current job hunt; especially now that I have a far better idea of my preferred future career trajectory and what I need to do to give myself the best chances of succeeding."  (The Biochemist, 1 June 2013)
"Sarah Blackford draws on her years of experience coaching bioscience researchers on careers and career planning to produce this guide. The book explains career planning approaches, gives practical ways to increase your self-awareness, and ideas for how to be proactive in enhancing your employability – and all written with reference to the experiences and opportunities available to bioscience doctoral students and postdocs. It is this feature which distinguishes this book from others in the marketplace that discuss these issues for a generic audience. Consideration is given not just to jobs in academic research, but a whole range of possibilities, both inside and outside science, supported by detailed career profiles of 20 PhD-qualified bioscientists.  Whether you already have ideas about what type of job you want, or have no idea what your options are, you will find something in this book to make you think about taking the plunge towards your next job in a proactive and productive way."
(Karen McGregor, Society for General Microbiology, Microbiology Today 40:1 Feb 2013)

"Whether you are actively job hunting or just interested in boosting your employability skills, this book is full of tailored advice. Written in a friendly, informal style by a professional careers adviser, it is peppered with examples from her own career. At times it gives you the feeling you are speaking directly to a careers adviser, rather than reading a book. Chapters cover career planning, an analysis of the job market, advice on writing applications and attending interviews. A self-awareness section and self-analysis exercises are useful for readers to learn how to promote themselves favourably and a chapter on enhancing employability suggests activities to strengthen applications.


Particularly interesting are the appendices with careers profiles, a guide to using social media, tips for targeting your CV and several pages of resources. As well as research careers in academia and industry, there is information on careers in science communication, policy, clinical trials, patent law and administration. The author explains job titles, job descriptions and what the roles actually involve, using real career narratives from bioscientists in different sectors.
Career Planning for Research Bioscientists
also covers careers in the UK, US and Europe. Early-career bioscientists will find it easy to dip into this book for detailed advice on specific areas and it needn't be read cover to cover. The careers theory discussed throughout also makes it a worthwhile read for careers advisers."  (Dr. Eva Sharpe MSB, 
The Biologist
, 1 April 2012)
"Whether you already have ideas about what type of job you want, or have no idea what your options are, you will find something in this book to make you think about taking the plunge towards your next job in a proactive and productive way."  (Society for General Microbiology, 25 February 2013) 


"Unlike some guides, which attempt to give advice to people in a wide range of different sectors or age groups, this is written specifically for early-career bioscientists. The realities of life for early-career researchers are addressed and this forms the basis on which decision making and implementation is discussed....This book can help you to start thinking seriously about your current and future career plans, giving useful insight into where you should look for ideas and motivation." (Dr. Lewis Dean, Physiological Society, October 2012)