Caring for Children Away from Home: Messages from Research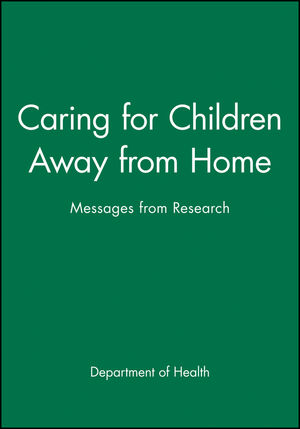 Caring for Children Away from Home: Messages from Research
ISBN: 978-0-471-98475-7 September 1998 118 Pages
Description
* What happens to children who pass through residential care?
* How are homes run and what is it like to live and work in them?
* What is meant by quality in residential care and how does this affect outcomes for children?
These are some of the gaps in our knowledge identified in the 1990s after a series of inquiries into the handling of residential care. As part of the government response, the Department of Health initiated a programme of research into aspects of residential care, resulting in a series of books published in association with John Wiley & Sons. Caring for Children Away From Home summarises and brings together the findings discussed in these books and demonstrates their relevance to policy and practice. This book, in conjunction with other titles in the series, contains lessons for all those concerned with children and young people living away from home.
Table of contents
Studies in the Programme.

Clearing the Ground.

Considering the Evidence.

Conclusions.

The Project Summaries.

'True for Us' Exercises.

The Young Person's Perspective.

References.