Cellular Aging and Cell Death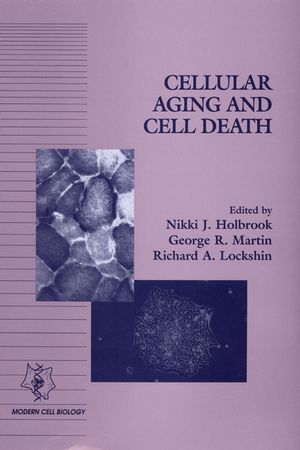 Cellular Aging and Cell Death
ISBN: 978-0-471-12123-7 January 1996 336 Pages
Download Product Flyer
Download Product Flyer
Download Product Flyer is to download PDF in new tab. This is a dummy description. Download Product Flyer is to download PDF in new tab. This is a dummy description. Download Product Flyer is to download PDF in new tab. This is a dummy description. Download Product Flyer is to download PDF in new tab. This is a dummy description.
Description
Cellular AGING AND CELL DEATH

Edited by Nikki J. Holbrook, George R. Martin, and Richard A.Lockshin

Cellular Aging and Cell Death provides a thorough understanding ofthe mechanisms responsible for cellular aging, covering the recentresearch on programmed cell death and senescence, and describingtheir role in the control of cell proliferation and the agingprocess. This one-of-a-kind book is the first to combine the twohottest research areas of cell biology into one comprehensivetext.

Leading experts contribute to give readers an authoritativeoverview of the distinct fields of cellular aging and programmedcell death, as well as to demonstrate how both fields are criticalto understanding the aging process. They address the large andgrowing interest in apoptosis, especially with regard to themolecular signals that induce and regulate programmed cell death,and the role of apoptosis in a variety of age-associated diseasesand disabilities. Throughout the book, a strong emphasis is placedon the interrelationship of the molecular, cellular, andphysiological aspects of senescence.

Individual chapters discuss such topics as the role and regulationof apoptosis in development, the potential impact of cell death onsuch postmitotic tissues as nerve and muscle, and suggest thatprogrammed cell death plays an important role in both pathologicaland nonpathological aspects of aging, including neurodegenerativediseases.

One important chapter focuses on the most recent research involvingthe study of telomeres, whose reduction in length with age and celldivision may underlie cellular senescence. The subject of neuronalcell death is also put into the perspective of aging.

Cellular Aging and Cell Death bridges the rapidly growing fields ofcellular aging and programmed cell death. This thorough, yetconcise book will be of particular interest to graduate studentsand researchers within the fields of cell and developmentalbiology, neurobiology, immunology, and physiology. Physicians andmedical students involved in the fields of gerontology andpathology will also find this an informative reference.
Table of contents
Partial table of contents:

BASIC MECHANISMS OF AGING.

Genetics of Aging and Longevity in Lower Organisms (T. Johnson, etal.).

Mitochondrial DNA Mutations and Aging (E. Schon, et al.).

Protein Damage and Oxidative Stress (T. Tabatabaie & R.Floyd).

MOLECULAR MECHANISMS CONTROLLING CELLULAR SENESCENCE.

Molecular Genetics of In Vitro Cellular Senescence (C. Afshari& J. Barrett).

Mechanisms of Escaping Senescence in Human Diploid Cells (W. Wright& J. Shay).

PROGRAMMED CELL DEATH: MECHANISMS AND ROLE IN DEVELOPMENT, AGINGAND DISEASE.

The Biology of Cell Death and Its Relationship to Aging (R.Lockshin & Z. Zakeri).

Programmed Cell Death During Development of Animals (C. Milligan& L. Schwartz).

Neuronal Loss in Aging and Disease (B. Wolozin, et al.).

Index.