Children and Pictures: Drawing and Understanding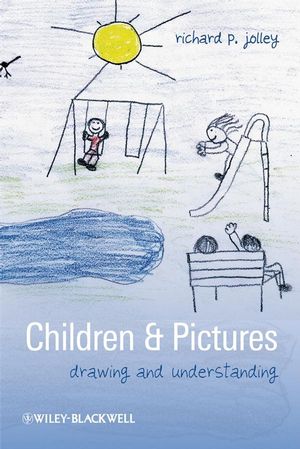 Children and Pictures: Drawing and Understanding
ISBN: 978-1-405-10543-9 April 2009 Wiley-Blackwell 392 Pages
Description
In
Children and Pictures
, Richard P. Jolley critiques both the historical and contemporary studies conducted in the field of children's making and understanding of pictures.
Some highlights of Children and Pictures are:
What develops, and why, in children's representational and expressive drawing, both in typical, atypical, and cross-cultural populations.
The developing relationship between production and comprehension of pictures.
Children's understanding of pictures as symbolic representations.
Practical and applied uses of drawings, particularly in clinical and legal settings.
Diverse educational practices of teaching drawing across the world.
Presenting up-to-date research and pointing towards future topics of study, Children and Pictures brings the study of children's drawings into mainstream child development studies. This is an edifying resource for students, researchers, practitioners, parents, artists, and educators in the field.
Table of contents
Acknowledgments.
Credits.
Introduction.
1 The Development of Representational Drawing.
2 The Development of Expressive Drawing.
3 Drawings from Children in Special Populations.
4 Production and Comprehension of Representational Drawing.
5 Children's Understanding of the Dual Nature of Pictures.
6 Drawings as Measures of Internal Representations.
7 Drawings as Assessment Tools: Intelligence, Personality and Emotionality.
8 Drawing as Memory Aids.
9 Cultural Influences on Children's Drawings.
10 The Education of Drawing.
11 Future Directions.
Further Reading.
References.
Author Index.
Subject Index.
Plates.
Reviews
"Children's drawing is a fascinating topic with a wide-ranging appeal,  and this well-written and well-informed book will be very useful to students and researchers of child development and art education, as well as being accessible to the general reader.  In ten clearly laid out chapters Richard Jolley gives an up-to-date overview of some of the debates in the field, an overview amply supported by research findings.  In a further and final chapter he suggests "future directions" which, I'm sure, will provide food for thought for many of the up-and-coming generation of researchers."
–
Dr Maureen Cox
, Emeritus Reader, Department of Psychology, University of York
"A long time in the making, this book was well worth waiting for. It is unusual in the range of topics it covers and the importance it accords to the field.  It can serve both as an introduction for new readers and as a resource for established researchers, which is extraordinarily hard to bring off.  This is because the author is clearly conducting a dialogue with the reader throughout, in a gracefully styled stream of writing."
–Norman Freeman, Emeritus Professor and Senior Research Fellow, Cognitive Development, University of Bristol
"Psychologist Richard Jolley takes the reader on a fascinating journey, using children's drawings and their understanding of pictures as a way to understand children's minds. This book will enlighten researchers, clinicians, educators, and parents – anyone who wants to understand why children draw in the sometimes odd, almost always charming, way that they do."
–Ellen Winner, Professor of Psychology, Boston College, and Senior Research Associate, Project Zero, Harvard University
What's New
A critical review of research into how children understand and create pictures
Includes the authors own research on drawings as memory aids and teaching drawing techniques
Aims to re-establish childrens drawing as part of mainstream child development
Discusses the importance of children's drawings within the clinical context
Draws comparisons between the national curriculum for Art in Britain and other countries, focusing on the development of representation and expression, and teaching techniques