China's Dream: The Culture of Chinese Communism and the Secret Sources of its Power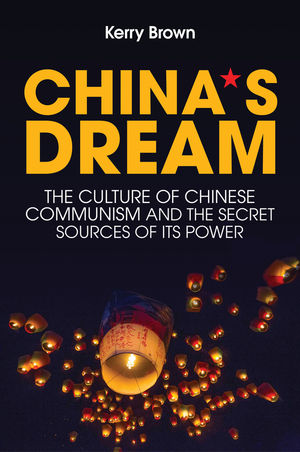 China's Dream: The Culture of Chinese Communism and the Secret Sources of its Power
ISBN: 978-1-509-52460-0 October 2018 Polity 240 Pages
Description
The Communist Party of China (CPC) is one of the great political forces of modern times. In charge of the destiny of a fifth of humanity, it survives despite the collapse of similar systems elsewhere. Few, however, understand the sources of this resilience, or, for that matter, what the Party itself stands for.

China's Dream is the first book to explore the Communist Party as a cultural, rather than a political, entity. It looks at the narratives the Party has created to recount its own history, with the moral story about national rejuvenation and renaissance that these encode. It does not shy away from the thorny issue of how a Party under Mao Zedong, one associated with self-sacrifice, collectivist effort, and anti-individualism, came to pragmatically embrace market capitalism and a new ethics. The tensions to which this gives rise have resulted in a crisis of values, which is now being addressed – with very mixed results – by the CPC.

Drawing on his extensive knowledge of contemporary China, Kerry Brown takes us on a unique and fascinating journey through the least understood aspect of China today – not the great economic revolution in the material world, but the deep cultural revolution already underway in Chinese people's daily lives.
Table of contents
Chronology vi
Abbreviations viii
Preface ix
Acknowledgements xi
About the Author xii
Introduction 1
1 Redemption from the Dark Past 21
2 Winning the Historic Mission: The Party under Xi 41
3 Being a Good Chinese Communist: The Search for a Moral Narrative in Xi's China 53
4 Back to Basics: The Roots of the Party's Moral Crisis 68
5 The Drama of Ideas: The Party and Ideology 103
6 The Ideological Fightback under Xi 121
7 The Aesthetics of the Party 140
Conclusion: The Party's Great Historic Mission 165
Notes 171
Suggested Readings 183
Index 189
Reviews
"Kerry Brown uncovers the moral mission behind the imposing language of the Communist Party of China, opening the door to understanding just what Xi Jinping and his colleagues think they are doing. It is, indeed, a revival of Maoist politics, but not of the Cultural Revolution variety. It's a brave new world that will be with us for many years and Brown provides a clear and concise guide to it."
Timothy Cheek, Institute of Asian Research, University of British Columbia
"Kerry Brown has provided a readable, authoritative guide to understanding how the Communist Party of China is forging a new identity for itself and the country. Eschewing simplistic explanations, he shows how the Party has successfully tapped into a broader search for values and morality, helping to give it more legitimacy--and power--than many observers thought possible just a few years ago. Strongly recommended for anyone interested in the corporate culture of what makes China's ruling party tick."
Ian Johnson, Pulitzer Prize-winning author of The Souls of China: The Return of Religion After Mao


"A fascinating book."
Martin Wolf, Financial Times

"An ambitious and successful attempt to unearth the cultural, moral and historical influences that underpin the thinking and actions of the CCP, both today and during China's recent past. This book questions many long-held and narrow assumptions about the role the ruling party in China. Highly recommended to students of Chinese politics and specialists in the field."
Robert Weatherley, University of Cambridge