China's Superbank: Debt, Oil and Influence - How China Development Bank is Rewriting the Rules of Finance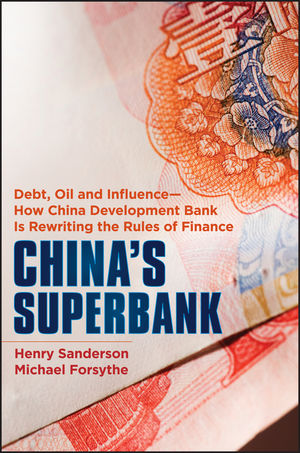 China's Superbank: Debt, Oil and Influence - How China Development Bank is Rewriting the Rules of Finance
ISBN: 978-1-118-17636-8 January 2013 250 Pages
Description
Inside the engine-room of China's economic growth—the China Development Bank
Anyone wanting a primer on the secret of China's economic success need look no further than China Development Bank (CDB)—which has displaced the World Bank as the world's biggest development bank, lending billions to countries around the globe to further Chinese policy goals. In China's Superbank, Bloomberg authors Michael Forsythe and Henry Sanderson outline how the bank is at the center of China's domestic economic growth and how it is helping to expand China's influence in strategically important overseas markets.
100 percent owned by the Chinese government, the CDB holds the key to understanding the inner workings of China's state-led economic development model, and its most glaring flaws. The bank is at the center of the country's efforts to build a world-class network of highways, railroads, and power grids, pioneering a lending scheme to local governments that threatens to spawn trillions of yuan in bad loans. It is doling out credit lines by the billions to Chinese solar and wind power makers, threatening to bury global competitors with a flood of cheap products. Another $45 billion in credit has been given to the country's two biggest telecom equipment makers who are using the money to win contracts around the globe, helping fulfill the goal of China's leaders for its leading companies to "go global."
Bringing the story of China Development Bank to life by crisscrossing China to investigate the quality of its loans, China's Superbank travels the globe, from Africa, where its China-Africa fund is displacing Western lenders in a battle for influence, to the oil fields of Venezuela.
Offers a fascinating insight into the China Development Bank (CDB), the driver of China's rapid economic development
Travels the globe to show how the CDB is helping Chinese businesses "go global"
Written by two respected reporters at Bloomberg News
As China's influence continues to grow around the world, many people are asking how far it will extend. China's Superbank addresses these vital questions, looking at the institution at the heart of this growth.
Preface ix
Acknowledgments xix
Chapter 1 Let 10,000 Projects Bloom 1
The Wuhu Model 4
The Chongqing Model 9
Global Financial Crisis 12
A Town Called Loudi 15
Li's Story 18
"Manhattan" in China 22
Credit Risk in a One-Party State 26
Cracks in the System 29
Chapter 2 Turning a Zombie Bank into a Global Bank 39
A Life in the Party 41
The Princeling Party: The Beginning of State Capitalism 50
Taking Over a Basket Case 55
Transforming CDB from an ATM Machine 58
Developing a Slogan 62
Beating the Commercial Banks 64
Gao Jian: Creating a Market for "Risk-Free" Bonds 68
The West Self-Destructs: The Financial Crisis 72
Moving Beyond Wall Street 75
Chapter 3 Nothing to Lose but Our Chains: China Development Bank in Africa 85
Made in Ethiopia 90
Ethiopia's Zone: Exporting to the West 94
China-Africa Development Fund: The State's Private Equity Arm 96
Rising Role of China in Africa 101
Fixed Capital: Western-Style Lending 105
African Tiger: Can Ghana Escape the Resource Curse? 108
Fresh Capital 116
Chapter 4 Risk versus Reward: China Development Bank in Venezuela 123
Default in Bolívar's Country 125
China's Venezuelan Adventure 126
Loans for Oil 132
Cars, Housing, and Gold: Good Business for China 136
Ecuador 139
Russia 140
China in the Backyard of the United States 141
Chapter 5 Funding the New Economy 147
Obama's Dream 151
Default-Free Bond Market 153
Financing China's Global Company: Huawei 157
The Final Frontier: Private Equity 163
Acting as a Gatekeeper 167
Imprint of the State 169
Chapter 6 The Future 175
About the Authors 181
Index 183
"Despite CDB's central role in developing China's economy and bankrolling the international expansion of Chinese companies, China's biggest policy lender rarely makes an appearance in most English-language chronicles of the country's economic rise. All the more reason then to praise a superbly researched new book, written by two Beijing-based reporters for Bloomberg, in which CDB finally makes a star turn."
"Lifting the veil on one of global finance's least understood institutions, the book is essential reading for anyone seeking insight into the workings of Chinese state capitalism." -- China Economic Quarterly, March 2013
Reviewer: Erica Downs of the Brookings Institution
"China's economy sometimes seems the work of miracles: three decades of economic growth, with GDP compounding at an annual rate of around 10%; the world's highest levels of savings and investment; vast trade surpluses, which feed the largest foreign-exchange reserves in history. The financial system has played a key role in delivering these economic feats, and no single institution within it has been more important than China Development Bank. "Understand CDB," Henry Sanderson and Michael Forsythe write in "China's Superbank," "and you understand the core of China's state capitalism." -- Wall Street Journal review, Feb 27, 2013

"The book is another useful insight into the workings of the Chinese state apparatus to come out of the Bloomberg bureau in Beijing – in July it printed an exposé about the family finances of Xi Jinping, and its website has been blocked since. One of the most striking aspects of the CDB story is how the bank managed to balance being a state-owned company with maintaining sufficient independence to function as a commercial business." -- Irish Times

"Calls for reform in China tend to come in two kinds – one, the most common in Chinese social media and popular discussion, calls for a crackdown on endemic forms of local tyranny, such as land seizures, black prisons, and bribery.  The other, found among liberals within the Party and expatriate businessmen, talks about rolling back the growing dominance of the state and state-owned companies over the Chinese economy, opening more markets to competition and ending the practices that allow state-owned (or state-blessed) companies to command cheap access to capital, natural resources, and land. So far, Xi Jinping's term looks promising for advocates of the first but the book [China's Superbank: Debt, Oil and Influence – How China Development Bank is Rewriting the Rules of Finance] makes a case that land seizures are at the very foundations of China's model of state capitalism." -- The Diplomat