Christianity and Contemporary Politics: The Conditions and Possibilities of Faithful Witness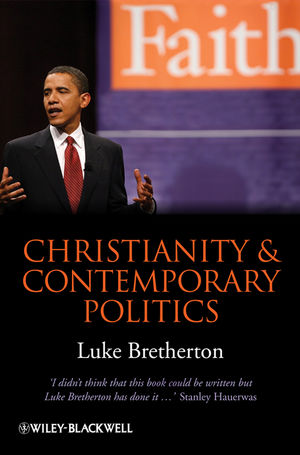 Christianity and Contemporary Politics: The Conditions and Possibilities of Faithful Witness
ISBN: 978-1-405-19968-1 January 2010 Wiley-Blackwell 272 Pages
Description
Congratulations to Luke Bretherton on winning the 2013 Michael Ramsey Prize for Theological Writing for Christianity and Contemporary Politics!
Relations between religious and political spheres continue to stir passionate debates on both sides of the Atlantic. Through a combination of theological reflection and empirical case studies, Bretherton succeeds in offering timely and invaluable insights into these crucial issues facing 21st century societies. 
Explores the relationship between Christianity and contemporary politics through case studies of faith-based organizations, Christian political activism and welfare provision in the West; these case studies assess initiatives including community organizing, fair trade, and the sanctuary movement
Offers an insightful, informative account of how Christians can engage politically in a multi-faith, liberal democracy
Integrates debates in political theology with inter-disciplinary analysis of policy and practice regarding religious social, political and economic engagement in the USA, UK, and continental Europe
Reveals how Christians can help prevent the subversion of the church – and even of politics itself – by legal, bureaucratic, and market mechanisms, rather than advocating withdrawal or assimilation
Engages with the intricacies of contemporary politics whilst integrating systematic and historical theological reflection on political and economic life
Table of contents
Preface.
Acknowledgments.
Introduction.
The Terms and Conditions of Political Life.
Religion and Postsecular Politics.
Theological Politics and the Ecclesial-Turn.
Summary of Aims and Methodology.
1. Faith-Based Organizations and the Emerging Shape of Church–State Relations.
Introduction.
"Working Together": The Shaping of Relations between the State and Religious Groups in a Multi-Faith Society.
Social Cohesion, Social Capital, and the "Salvation" of Civil Society.
Liberalism and the Continuing Requirements of Public Reason.
Theological Politics and the Question of What Constitutes Faithful Witness.
Ecclesiology and the Political Mission of the Church.
Summary.
2. Local: Augustine, Alinsky, and the Politics of the Common Good.
Introduction.
The Alinsky Approach: The Work of Broad-Based Community Organizing.
Eschatology, Politics, and the Mutual Ground of the Saeculum.
Christian Realism Redivivus?
A Thomistic Democratic Politics?
Reweaving Civil Society.
Politics without Piety Is Pitiless; Piety without Politics Is Pitiful.
Summary.
3. National: Christian Cosmopolitanism, Refugees, and the Politics of Proximity.
Introduction.
Theological Politics and the Liberal Democratic Response to Refugees.
Refugees as Bare Life.
Bare Life and the Limits of Humanitarianism.
Hallowing Bare Life: A Doxological Response.
Hallowed Be Thy Name.
Sanctuary: The Practice of Hallowing Bare Life.
Summary.
4. Global: Consumerism, Fair Trade, and the Politics of Ordinary Time.
Introduction.
Defining Political Consumerism.
Consumerism and the Formation of Desire.
Political Consumerism as Apprenticeship in the Virtues.
Political Consumerism as Neighbor Love.
Fair Trade as Contradiction.
Fair Trade, Globalization and the Emergence of Political Consumerism.
Ordinary Politics and the Peace of Babylon.
Summary.
Conclusion: Toward a Politics of Hospitality and a Theology of Politics.
Epilogue.
Bibliography.
Index.
Reviews
"A deeply hospitable book, which is rooted in evangelical orthodoxy, but is clearly open to public dialogues and unafraid to speak within them in its own accent … [Bretherton's] account of listening as a Christian political practice is outstanding and inspiring. This is a very fine book, which deserves the attention and engagement of the practical theological community."  (International Journal of Practical Theology, 19 July 2012)
"My hope is that the ideas contained here will not remain in the academy but will provide  momentum for a challenging Christian encounter with the issues and injustices of our political and social context."  (Modern Believing, 1 April 2012)
"[Bretherton] establishes himself in this book as a leading figure in political theology by giving a profound synthetic account of political theory and theology." (Church Times, 2010)
"I'll be giving Christianity and Contemporary Politics to my graduate students and others seeking to become authors and academics. It is a model of the kind of book a scholar should be looking to write." (Christian Century, June 2011)
"This is a wonderful book, perhaps the best book on contemporary Christianity and politics in liberal nation-states I have read. It is both based in concrete practices and theoretically aware. Most of all, its author exhibits the virtues necessary to undertake such a task: he is generous, faithful, and engaged with real communities of Christians and others. I will be using this book with students, and recommending it to colleagues." (Studies in Christian Ethics, June 2011)
"I strongly recommend this book as one of the most fascinating accounts of the relationship between politics and religion in contemporary society. The author has mastered very skillfully several bodies of literature from different disciplines and presented a new synthesis of them. He points a way forward that takes into account traditional ways of understanding religious faith and practice but practiced in the very new and emergent conditions of the twenty-first century." (Politics, Religion & Ideology, December 2011)
"This book is important, though not always an easy read. However, the effort will reward those who persevere with new insights about the mission of the church and the witness of the individual Christian. It should prove particularly refreshing to those who train ministers and church-related community workers, as well as to all who struggle with political and community issues within the church in its Big Society." (Reform, 1 May 2011)
"Over the past decade political theology has become one of the most energetic (and polemical) conversations in the field of theology. Bretherton (King's College London) makes a signal contribution to these debates as a voice characterized by critical charity. While the field has tended to line up in camps (e.g., Niebuhrians vs. Hauenvasians), Bretherton is eager to affirm what's right in both without shrinking from criticizing either. The great virtue of this book is that it moves the conversation from the abstract environs of national politics and "church-state" questions to the nitty-gritty environs of the municipal pursuit of the common good (or rather, as Bretherton emphasizes, goods in common). Changing the scope and scale of the question, the book provides a fresh analysis through a series of case studies that are attentive to place--considering, for example, the community organizing of Saul Alinsky (the space of Obama's apprenticeship) as a case of the church concretely impacting the shared space of common goods. Neither beset by worries about Constantinianism, nor motivated by pretensions to Christendom, this book deserves wide attention." (CHOICE, December 2010)
"I cannot commend it highly enough." (Regent's Reviews, 1 October 2010)
"Bretherton is one of the most helpful voices engaging culture in a way that results in robust witness and faithful Gospel proclamation. And so this book is enthusiastically recommended to all concerned with relevant Christian witness in ever changing Western political situations." (European Journal of Theology, 2010)
Features
Explores the relationship between Christianity and contemporary politics through case studies of faith-based organizations, Christian political activism and welfare provision in the West; these case studies assess initiatives including community organizing, fair trade, and the sanctuary movement
Offers an insightful, informative account of how Christians can engage politically in a multi-faith, liberal democracy
Integrates debates in political theology with inter-disciplinary research on and analysis of policy and practice regarding religious social, political and economic engagement in the USA, UK, and continental Europe
Reveals how Christians can help prevent the subversion of the church – and even of politics itself – by legal, bureaucratic, and market mechanisms, rather than advocating withdrawal or assimilation
Solves the need for a text that relates theological issues to the different models of practice relating to church-state relations