Chromatic Cinema: A History of Screen Color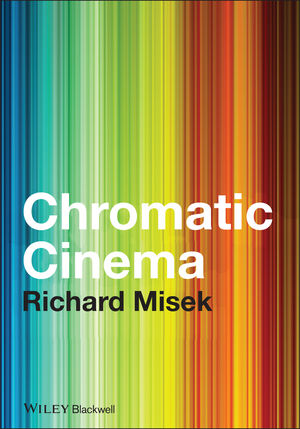 Chromatic Cinema: A History of Screen Color
ISBN: 978-1-444-33239-1 April 2010 Wiley-Blackwell 240 Pages
Description
Chromatic Cinema
provides the first wide-ranging historical overview of screen color, exploring the changing uses and meanings of color in moving images, from hand painting in early skirt dance films to current trends in digital color manipulation.
Offers both a history and a theory of screen color in the first full-length study ever published
Provides an in-depth yet accessible account of color's spread through and ultimate effacement of black-and-white cinema, exploring the technological, cultural, economic, and artistic factors that have defined this evolving symbiosis
Engages with film studies, art history, visual culture and technology studies in a truly interdisciplinary manner
Includes 65 full-color illustrations of films ranging from Expressionist animation to Hollywood and Bollywood musicals, from the US 'indie' boom to1980s neo-noir, Hong Kong cinema, and recent comic-book films
Table of contents
List of Plates.
Acknowledgments.
Introduction.
1. Film Color.
Coloration in Early Cinema, 1895–1927.
The Rise of Technicolor, 1915–35.
Chromatic Cold War: Black-and-White and Color in Opposition.
"Technicolor Is Natural Color": Color and Realism, 1935–58.
Chromatic Thaw: Hollywood's Transition to Color, 1950–67.
2. Surface Color.
Color in European Film, 1936–67.
Chromatic Ambivalence: Art Cinema's Transition to Color.
"Painting with Light": Cinema's Imaginary Art History.
Unmotivated Chromatic Hybridity.
Monochrome Purgatory: Absent Color in the Soviet Bloc, 1966–75.
3. Absent Color.
Black-and-White as Technological Relic, 1965–83.
Black-and-White Flashbacks: Codifying Temporal Rebirth.
Black-and-White Films, 1967–2007.
Nostalgia and Pastiche.
4. Optical Color.
Cinema's Newtonian Optics.
White Light: Hollywood's Invisible Ideology.
Darkness Visible: From Natural Light to "Neo-Noir", 1968–83.
Cinematography and Color Filtration, 1977–97.
Case Study: Seeing Red in Psycho.
5. Digital Color.
Crossing the Chromatic Wall in Wings of Desire.
An Archaeology of Digital Intermediate, 1989–2000.
Digital Color Aesthetics, 2000–9.
Conclusion: Painting by Numbers?
Notes.
Bibliography.
Index.
Reviews
"Chromatic Cinema provides a much-needed technological history of machines and techniques for producing moving images in color, as well as a cultural history of color films."  (BRIAN R. JACOBSON, Technology and Culture, July 2012)
"An invigorating critical intervention into the history, theory and aesthetic analysis of colour in the cinema."  (JENNIFER M. BARKER, Screen, August 2012)
"Chromatic Cinema provides a wealth of information and of examples of different approaches to colour in cinema and stimulates enough thoughts and reflections to be a worthy addition to any library on colour in cinema."  (NICOLA MAZZANTI, Historical Journal of Film, Radio and Television, April 2012
"Chromatic Cinema is an excellent critical history of screen colour by Richard Misek, who teaches at the University of Bristol, near which, as I recall, is a plaque to mark the birthplace of William Friese-Greene, the somewhat unfortunate British movie pioneer, one of who patents was for his own colour system." (Times Literary Supplement, 25 November 2011)
"The book touches on most of the important aspects of color cinema-from history to technology to ideology-and serves as an orientation course for a complex subject. It's a gateway read, neither intimidating nor frustrating. For a beginner (like me), it presented a smattering of philosophical ideas, a grounding in the why and how progression of color use, and a primer on the science of color technologies." (MUBI, September 2010)
Features
Offers both a history and a theory of screen color in the first full-length study ever published

Provides an in-depth yet accessible account of color's spread through and ultimate effacement of black-and-white cinema, exploring the technological, cultural, economic, and artistic factors that have defined this evolving symbiosis

Engages with film studies, art history, visual culture and technology studies in a truly interdisciplinary manner

Includes 65 full-color illustrations of films ranging from Expressionist animation to Hollywood and Bollywood musicals, from the US 'indie' boom to1980s neo-noir, Hong Kong cinema, and recent comic-book films