Communication Patterns of Engineers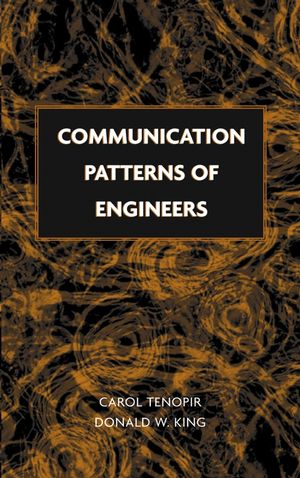 Communication Patterns of Engineers
ISBN: 978-0-471-48492-9
Jan 2004, Wiley-IEEE Press
280 pages
Description
Communication Patterns of Engineers brings together, summarizes, and analyzes the research on how engineers communicate, presenting benchmark data and identifying gaps in the existing research. Written by two renowned experts in this area, the text:
Compares engineering communication patterns with those of science and medicine
Offers information on improving engineering communication skills, including the use of communication tools to address engineering departments' concerns about the inadequacies of communication by engineers
Provides strong conclusions to address what lessons engineering educators, librarians, and communication professionals can learn from the research presented
Acknowledgements.
Introduction.
Communication Models.
An Engineers' Communication Framework.
The Engineering Profession and Communication.
Information Seeking and Use.
Information Output by Engineers.
Engineering Education and Communication Skills.
The Engineering Scholarly Journal Channel.
Engineering Communication Patterns Compared with Science and Medicine.
The NASA/DOD Aerospace Knowledge Diffusion Research Project.
Bibliography.
""…this book is highly recommended for library and information science libraries and engineering special and academic libraries."" (
E-STREAMS
, July 2004)
""…a mountain of research. Virtually every paragraph contains foods for thought. If you want a broad view of engineering communication…I highly recommend this book."" (Computing Reviews.com, June 22, 2004) 
"...looks at all aspects of engineering communication, including how much time engineers spend reading for their jobs and the kind of information they produce as a result of their work." (The Institute, January 7, 2004)