Comprehensive Handbook of Psychological Assessment, Volume 1: Intellectual and Neuropsychological Assessment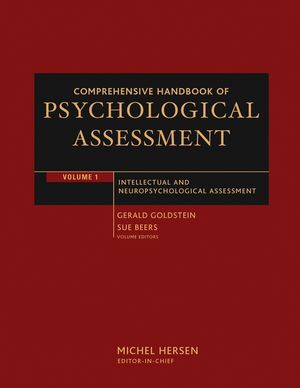 Comprehensive Handbook of Psychological Assessment, Volume 1: Intellectual and Neuropsychological Assessment
ISBN: 978-0-471-41611-1 October 2003 432 Pages
Description
In one volume, the leading researchers in intelligence and neuropsychological assessment interpret the range of issues related to intellectual and neuropsychological tests, including test development and psychometrics, clinical applications, ethical and legal concerns, use with diverse populations, computerization, and the latest research. Clinicians and researchers who use these instruments will find this volume invaluable, as it contains the most comprehensive and up-to-date information available on this important aspect of practice.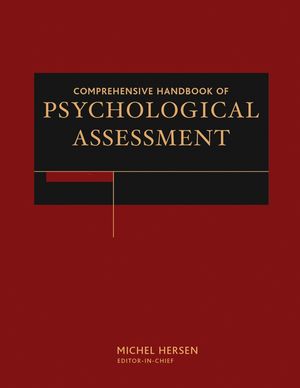 Handbook Preface.

Contributors.

SECTION ONE: INTELLECTUAL ABILITY.

1. INTRODUCTION TO SECTION ONE (Gerald Goldstein and Sue R. Beers).

2. THEORIES OF INTELLIGENCE: ISSUES AND APPLICATIONS (J.P. Das).

3. RELATIONS BETWEEN INTELLIGENCE AND ACHIEVEMENT TESTS (Michael C. Ramsay and Cecil R. Reynolds).

4. THE WECHSLER INTELLIGENCE SCALES FOR CHILDREN AND ADULTS (Jianjun Zhu, Lawrence G. Weiss, Aurelio Prifitera, and Diane Coalson).

5. "BACK TO THE FUTURE" OF THE STANFORD-BINET INTELLIGENCE SCALES (R.W. Kamphaus and Anna P. Kroncke).

6. MEASURES OF INFANT AND EARLY CHILDHOOD DEVELOPMENT (Glen P. Aylward).

SECTION TWO: NEUROPSYCHOLOGY.

7. INTRODUCTION TO SECTION TWO (Gerald Goldstein and Sue R. Beers).

Part One: Comprehensive Neuropsychological Assessment Batteries.

8. THEORETICAL, METHODOLOGICAL, AND VALIDATIONAL BASES OF THE HALSTEAD-REITAN NEUROPSYCHOLOGICAL TEST BATTERY (Ralph M. Reitan and Deborah Wolfson).

9. THE ADULT LURIA-NEBRASKA NEUROPSYCHOLOGICAL BATTERY (Charles J. Golden).

10. THE LURIA-NEBRASKA NEUROPSYCHOLOGICAL BATTERY-CHILDREN'S REVISION (Robert A. Leark).

11. NEPSY--A TOOL FOR COMPREHENSIVE ASSESSMENT OF NEUROCOGNITIVE DISORDERS IN CHILDREN (Marit Korkman).

Part Two: Neuropsychological Assessment of Cognitive Domains.

12. LANGUAGE AND COMMUNICATION ASSESSMENT IN ADULTS (Guila Glosser and Patricia M. Fitzpatrick).

13. LANGUAGE ASSESSMENT IN CHILDREN (Elizabeth Kelley, Garland Jones, and Deborah Fein).

14. MEMORY AND LEARNING IN ADULTS (John DeLuca and Nancy D. Chiaravalloti).

15. COMPREHENSIVE ASSESSMENT OF CHILD AND ADOLESCENT MEMORY: THE WIDE RANGE ASSESSMENT OF MEMORY AND LEARNING, THE TEST OF MEMORY AND LEARNING, AND THE CALIFORNIA VERBAL LEARNING TEST-CHILDREN'S VERSION (Michael J. Miller, Jo Ann Petrie, Erin D. Bigler, and Wayne V. Adams).

16. THE ATTENTION BATTERY FOR ADULTS: A SYSTEMATIC APPROACH TO ASSESSMENT (Connie C. Duncan and Allan F. Mirsky).

17. THE ATTENTION BATTERY FOR CHILDREN: A SYSTEMATIC APPROACH TO ASSESSMENT (Allan F. Mirsky and Connie C. Duncan).

18. ABSTRACT REASONING AND PROBLEM SOLVING IN ADULTS (Gerald Goldstein).

19. SENSORY-PERCEPTUAL AND MOTOR FUNCTION (Gerald Goldstein and Richard D. Sanders).

Part Three: Professional Issues.

20. THE CULTURAL IN CROSS-CULTURAL NEUROPSYCHOLOGY (Antonio E. Puente and Anna V. Agranovich).

21. TRANSLATION AND TEST ADMINISTRATION TECHNIQUES TO MEET THE ASSESSMENT NEEDS OF ETHNIC MINORITIES, MIGRANTS, AND REFUGEES (Victor Nell).

22. FORENSIC NEUROPSYCHOLOGY (Jim Hom and Janice Nici).

Author Index.

Subject Index.