Contemporary Strategy Analysis Text Only, 9th Edition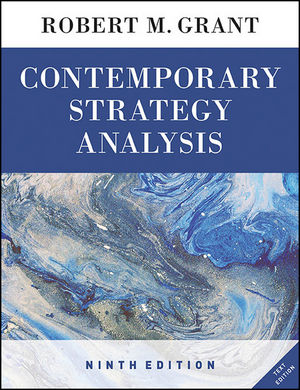 Contemporary Strategy Analysis Text Only, 9th Edition
ISBN: 978-1-119-12083-4 December 2015 480 Pages
Description
Robert M. Grant combines a highly accessible writing style with a concentration on the fundamentals of value creation and an emphasis on practicality in this leading strategy text.

In this new edition several topics have increased emphasis including: platform-based competition and 'ecosystems' of related industries; the role of strategy making processes/practices; mergers, acquisitions and alliances; and additional emphasis on strategy implementation.
Preface to Ninth Edition xv
PART I INTRODUCTION 1
1 The Concept of Strategy 3
PART II THE TOOLS OF STRATEGY ANALYSIS 33
2 Goals, Values, and Performance 35
3 Industry Analysis: The Fundamentals 63
4 Further Topics in Industry and Competitive Analysis 89
5 Analyzing Resources and Capabilities 113
6 Organization Structure and Management Systems: The Fundamentals of Strategy Implementation 139
PART III BUSINESS STRATEGY AND THE QUEST FOR COMPETITIVE ADVANTAGE 165
7 The Sources and Dimensions of Competitive Advantage 167
8 Industry Evolution and Strategic Change 205
9 Technology-based Industries and the Management of Innovation 241
10 Competitive Advantage in Mature Industries 273
PART IV CORPORATE STRATEGY 289
11 Vertical Integration and the Scope of the Firm 291
12 Global Strategy and the Multinational Corporation 311
13 Diversification Strategy 341
14 Implementing Corporate Strategy: Managing the Multibusiness Firm 361
15 External Growth Strategies: Mergers, Acquisitions, and Alliances 389
16 Current Trends in Strategic Management 409
Glossary 427
Index 435
A revised organisation and chapter format to improve alignment between chapter content and learning objectives.
Greater emphasis on strategy implementation.
Updated content incorporating some of the key strategic issues of the past three years.
Also available as an enhanced e-text giving extra functionality.
Introduces students to the core concepts and principles of strategy.
Combines a rigorous approach to business strategy analysis with highly relevant examples of current practice.