Crime in an Insecure World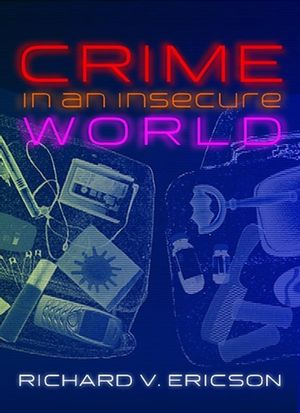 Crime in an Insecure World
ISBN: 978-0-745-63829-4 November 2006 Polity 188 Pages
Description
Crime in an Insecure World
investigates the alarming trend across Western societies of treating every imaginable source of harm as a crime. It locates this trend in the 21st century obsession with insecurity fostered by neo-liberal governments. It explains why selected issues of national security (threats of terrorism), social security (benefit system integrity), corporate security (liabilities for harm) and domestic security (anti-social behaviour) are at the top of the political agenda. It documents how this politics of insecurity leads to enormous expenditures on risk assessment and management that ironically reveal the limits of risk-based reasoning and intensify uncertainty. Catastrophic imaginations are fuelled, precautionary logics become pervasive, and extreme security measures are institutionalized.
The security measures include the invention of disturbing new forms of 'counter law' or 'law against law'. Counter law criminalizes not only those who actually cause harm, but also those merely suspected of being harmful, as well as authorities who are deemed responsible for security failures. Traditional principles, standards and procedures of criminal law are eroded or eliminated altogether, and civil and administrative law become more salient in processes of criminalization. Counter law also involves the innovative expansion of surveillance technologies and networks. CCTV, smart cards, data matching, data mining, and private policing all facilitate criminalization of the merely suspicious and security failures. Security trumps justice, and uncertainty proves itself.
This book is grounded in leading-edge theory and research across academic disciplines. It contributes to the most critical and contested debates in 21st century politics. It is of great interest not only to students of politics, sociology, law, criminology, risk management and public policy, but also to the general reader.
Table of contents
List of Illustrations and Figures.
Acknowledgments.
1 Crime in an Insecure World.
2 National Security.
3 Social Security.
4 Corporate Security.
5 Domestic Security.
6 Insecurity.
References.
Index.
Reviews
"This book makes a valuable contribution to our understanding of how nations exploit and negotiate risk. It also provides a powerful analysis of mass criminalisation across the globe and will therefore be a fascinating read for academics and for policymakers."
—
Simon Davies, Times Higher Education Supplement
"As the title suggests, Richard Ericson's Crime in an Insecure World captures the central developments facing late modern society, all of which contribute to the decline of criminal law. Ericson delivers a deep and compelling analysis of an unraveling civil society that produces not only a culture of control but also a culture of suspicion. Written in a straightforward style, the book helps us understand how structural realignments in a neo-liberal regime shape our perceptions of crime and disorder."
—Michael Welch, London School of Economics and Political Science
"Crime in an Insecure World demonstrates all the virtues of clarity and scholarship that we have come to expect in Ericson's work. In this timely statement these are joined with a more urgent, morally engaged, even prophetic voice. Ericson urges us to see more clearly that our yearning for an impossible security may yet prove ruinous for our legal order, our civil society and indeed the very safety that we so crave. This powerful and cogent analysis deserves the widest possible audience."
—Richard Sparks, University of Edinburgh
Features


This timely book investigates the alarming trend spreading across Western countries of treating every imaginable source of harm as a crime.

This groundbreaking book contributes to the most critical and contested debates in 21st century politics.

The author is an extremely well known and respected academic who has published a number of very well respected books on Risk Society

Comprehensive and clear analysis of how and why the law is being reformed in western society in the face of perceived risks.

Brimming with insights about a dystopian world obsessed with crime, risk and uncertainty and therefore possessed by extreme security measures.