Cyber-Safe Kids, Cyber-Savvy Teens: Helping Young People Learn To Use the Internet Safely and Responsibly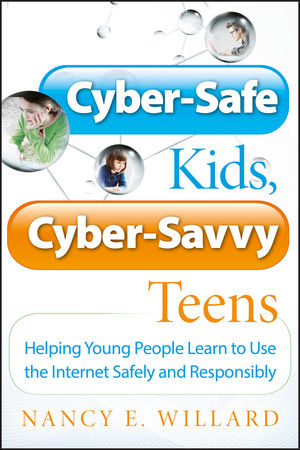 Cyber-Safe Kids, Cyber-Savvy Teens: Helping Young People Learn To Use the Internet Safely and Responsibly
ISBN: 978-0-787-99417-4
Apr 2007, Jossey-Bass
336 pages
Description
Essential strategies to keep children and teens safe online

As our children and teens race down the onramp to the Information Superhighway, many parents feel left behind in the dust. News stories about online sexual predators, child pornography, cyberbullies, hate groups, gaming addiction, and other dangers that lurk in the online world make us feel increasingly concerned about what our children are doing (and with whom) in cyberspace. In Cyber-Safe Kids, Cyber-Savvy Teens, Internet safety expert Nancy Willard provides you with need-to-know information about those online dangers, and she gives you the practical parenting strategies necessary to help children and teens learn to use the Internet safely and responsibly.

Parents protect younger children by keeping them in safe places, teaching them simple safety rules, and paying close attention. As children grow, we help them gain the knowledge, skills, and values to make good choices--choices that will keep them safe and show respect for the rights of others. In Cyber-Safe Kids, Cyber-Savvy Teens, Willard shows you how those same strategies can be translated from the real world to the cyberworld, and that you don't have to learn advanced computer skills to put them into effect. As you work on these strategies with your child, you will also discover that remaining engaged with what your children are doing online is much more valuable than any blocking software you could buy.

"Willard blends the perspectives of a wise parent and a serious scholar about issues related to Internet behavior and safety. . . . Pick up the book, open it to any random page, and you will find on that page or nearby a wealth of helpful advice and useful commentary on the cyberreality facing our children and on how to deal with any of the issues she's identified."
--Dick Thornburgh, J.D., former U.S. Attorney General; chair, National Academy of Sciences Committee on Youth Pornography and the Internet

"Simply put, this book is a must-read for anyone--parents, educators, law enforcement, and policymakers alike--concerned with the critical issue of children's internet safety and what to do about it."
--Douglas Levin, senior director of education policy, Cable in the Classroom
Introduction.
Part One: Internet Parenting Strategies.
1. Of Fenced Play Yards and Hands-On Parenting: Effective Real-World Parenting Online.
2. Danger Signs on the Information Highway: Overview of Online Risks and Concerns.
3. Internet Use for Different Ages: Guidelines for Children, Early Teens, and Older Teens.
4. Too Hard, Too Soft, Just Right: Parenting Styles and Effective Internet Parenting.
5. Filtering Follies and Other Myths: Technology "Quick Fixes" Lead to False Security.
6. I'm Your Parent. It's My Responsibility: Supervising Your Child's Online Activities.
7. A Community of Parents: Collaborating with Other Parents.
8. Red Flags! Warning Signs and Responses.
9. Away from Home: Use of the Internet at Other Places.
10. Get It in Writing: Parent-Teen Internet Use Agreement.
Part Two: Foundational Issues.
11. Me and My Friends: Online Social Networking.
12. Eyeballs and E-Wallets: E-Commerce and Your Child.
13. None of Your Business: Privacy Protection Strategies.
14. Wired 24/7: Internet Addictive Behavior and Multitasking.
15. Read with Your Eyes Open: The Importance of Information Literacy.
16. Don't Take Candy from Strangers: Online Stranger Literacy.
Part Three: Influences on Online Decision Making.
17. Working on the "Hard-Wiring": Brain Development and Online Decision Making.
18. You Can't See Me, I Can't See You: How Technology Can Interfere with Responsible Decision Making.
19. Why We Believe What "They" Say: Social Influence Techniques Online.
20. Looking for Love in All the Wrong Places: Young People Who Are at Greater Risk Online.
21. On the Net, What You Do Reflects on You: Core Values and Standards Online.
Part Four: Specific Risks and Concerns.
22. Sex and the Internet: Risky Sexual Online Activities.
23. I Can Say What I Want Online: Cyberbullying and Social Aggression.
24. Questionable Support: Self-Harm Communities and "At Risk" Teens.
25. "Us" Against "Them": Hate Groups, Gangs, and Other Troublesome Groups.
26. I'm Going to Get You: Cyberthreats and Distressing Material.
27. Come and Play: Online Gaming.
28. You Bet, I Win, You Lose: Online Gambling.
29. Tag, I Got You: Hacking and Computer Crimes.
30. Not the Highest Form of Flattery: Plagiarism.
31. I Can Copy and Share Anything on the Internet: Copyright Protection and Infringement.
32. Security First: Protection Against "Malware."
33. Spam, Spam, Spam, and More Spam: Unsolicited (or Unknowingly Approved) Email Advertising.
34. Have I Got a Deal for You: Scams and Phishing.
Part Five: Accenting the Positive.
35. Finding the Good Life: Beneficial Activities Online.
Appendix A: Parent-Teen Internet Use Agreement.
Appendix B: The Cyberspace World.
Notes.
About the Author.
Index.