Data Mining Techniques in CRM: Inside Customer Segmentation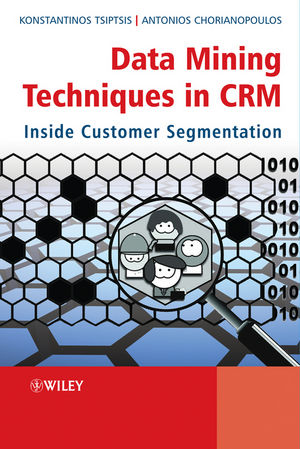 Data Mining Techniques in CRM: Inside Customer Segmentation
ISBN: 978-0-470-74397-3 January 2010 372 Pages
Description
This is an applied handbook for the application of data mining techniques in the CRM framework. It combines a technical and a business perspective to cover the needs of business users who are looking for a practical guide on data mining. It focuses on Customer Segmentation and presents guidelines for the development of actionable segmentation schemes. By using non-technical language it guides readers through all the phases of the data mining process.
Table of contents
Acknowledgements.
1. Data Mining in CRM.
The CRM Strategy.
What Can Data Mining Do?
The Data Mining Methodology.
Data Mining and Business Domain Expertise.
Summary.
2. An Overview of Data Mining Techniques.
Supervised Modeling.
Unsupervised Modeling Techniques.
Machine Learning/Artificial Intelligence vs. Statistical Techniques.
Summary.
3. Data Mining Techniques for Segmentation.
Segmenting Customers with Data Mining Techniques.
Principal Components Analysis.
Clustering Techniques.
Examining and Evaluating the Cluster Solution.
Understanding the Clusters through Profiling.
Selecting the Optimal Cluster Solution.
Cluster Profiling and Scoring with Supervised Models.
An Introduction to Decision Tree Models.
Summary.
4. The Mining Data Mart.
Designing the Mining Data Mart.
The Time Frame Covered by the Mining Data Mart.
The Mining Data Mart for Retail Banking.
The Mining Data Mart for Mobile Telephony Consumer (Residential) Customers.
The Mining Data Mart for Retailers.
Summary.
5. Customer Segmentation.
An Introduction to Customer Segmentation.
Segmentation Types in Consumer Markets.
Segmentation in Business Markets.
A Guide for Behavioral Segmentation.
Segmentation Management Strategy.
A Guide for Value-Based Segmentation.
Designing Differentiated Strategies for the Value Segments.
Summary.
6. Segmentation Applications in Banking.
Segmentation for Credit Card Holders.
Segmentation in Retail Banking.
The Marketing Process.
Segmentation in Retail Banking; A Summary.
7. Segmentation Applications in Telecommunications.
Mobile Telephony.
The Fixed Telephony Case.
Summary.
8. Segmentation for Retailers.
Segmentation in the Retail Industry.
The RFM Analysis.
Grouping Customers According to the Products They Buy.
Summary.
Further Reading.
Index.
Reviews
"The book is written in a language that is easily accessible to business users who are not fluent in statistical methods and who have no prior exposure to the data mining or customer segmentation domain . . . This book is poised to become a standard reference, and I unconditionally recommend it to anyone working in this field." (Computing Reviews, 23 June 2011)
"This is an excellent book for any data miner or anybody involved in CRM. The text is clear and pictures are well done and funny which is rare enough to be mentioned. From basic to advanced topics, the book is a very pleasant journey inside data mining with a clear focus on customer segmentation. Really advised if you're not a fan of formulas." (Data Mining Research, 18 March 2011)
Extra
Customers DNA  Find more resources on this related website.  
http://www.insidedm.com/ >Inside Data Mining  Read the Data Mining and Analytical CRM blog written by the authors of this book.