Design and Development of Medical Electronic Instrumentation: A Practical Perspective of the Design, Construction, and Test of Medical Devices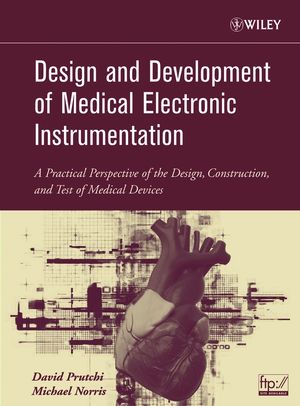 Design and Development of Medical Electronic Instrumentation: A Practical Perspective of the Design, Construction, and Test of Medical Devices
ISBN: 978-0-471-67623-2 December 2004 461 Pages
Description
Design and Development of Medical Electronic Instrumentation fills a gap in the existing medical electronic devices literature by providing background and examples of how medical instrumentation is actually designed and tested. The book includes practical examples and projects, including working schematics, ranging in difficulty from simple biopotential amplifiers to computer-controlled defibrillators. Covering every stage of the development process, the book provides complete coverage of the practical aspects of amplifying, processing, simulating and evoking biopotentials. In addition, two chapters address the issue of safety in the development of electronic medical devices, and providing valuable insider advice.
PREFACE ix
DISCLAIMER xiii
ABOUT THE AUTHORS xv
1 BIOPOTENTIAL AMPLIFIERS 1
2 BANDPASS SELECTION FOR BIOPOTENTIAL AMPLIFIERS 41
3 DESIGN OF SAFE MEDICAL DEVICE PROTOTYPES 97
4 ELECTROMAGNETIC COMPATIBILITY AND MEDICAL DEVICES 147
5 SIGNAL CONDITIONING, DATA ACQUISITION, AND SPECTRAL ANALYSIS 205
6 SIGNAL SOURCES FOR SIMULATION, TESTING, AND CALIBRATION 249
7 STIMULATION OF EXCITABLE TISSUES 305
8 CARDIAC PACING AND DEFIBRILLATION 369
EPILOGUE 441
APPENDIX A: SOURCES FOR MATERIALS AND COMPONENTS 447
APPENDIX B: ACCOMPANYING CD-ROM CONTENT 451
INDEX 457
"The book is user-friendly, accurate...and will be very useful to anyone with a basic understanding of circuit theory…" (
Annals of Biomedical Engineering
, June 2006)
"This reviewer will find this text a valued part of his library for the several areas extremely well elucidated. And talking with a few colleagues, the reviewer confirmed that this text will have wide appeal…" (Biomedical Instrumentation & Technology, July/August 2005)
"…details this application's unique requirements and constraints, exploring with general discussion, schematic diagrams, representative waveforms, and typical-design photos." (EDN Online, January 12, 2005)
An Instructor Support FTP site is available from the Wiley editorial department.