Developing and Enhancing Teamwork in Organizations: Evidence-based Best Practices and Guidelines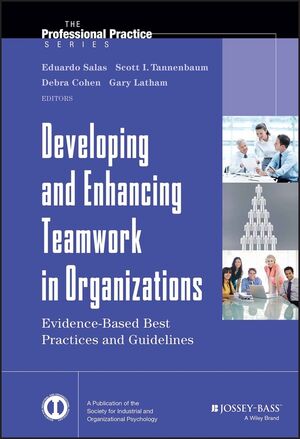 Developing and Enhancing Teamwork in Organizations: Evidence-based Best Practices and Guidelines
ISBN: 978-1-118-14589-0 July 2013 Jossey-Bass 736 Pages
Description
Praise for Developing and Enhancing Teamwork in Organizations
"Few questions are more vital and important than teamwork, in an increasingly interdependent and connected world. This volume is a unique and essential reference for managers, scholars and anyone interested in enhancing team performance. The combination of vivid real-world examples with thoughtful evidence-based frameworks will make a lasting contribution to the study and practice of team-based management."
—John Boudreau, Professor of Management and Organization, USC Marshall School of Business
"Excellent practice insights from leading practitioners and academics. A valuable contribution to our knowledge concerning how to create and manage teams."
—Ed Lawler, Director of Center for Effective Organizations
Foreword xiii
The Editors xv
The Contributors xvii
Part 1: Why Teamwork Matters in Organizations 1

1 Teamwork in Financial Institutions—Does It Really Matter? 3
Michael J. Castellana, CEO, SEFCU
2 Do Teams' Leaders Really Matter? 6
COL Casey Haskins, U.S. Military Academy, West Point
3 Teamwork Matters 11
Peter J. Pronovost, Johns Hopkins University
4 Making a Difference with Health Care Teams 13
Victor V. Buzachero, Scripps Health
5 Developing Leaders on Any Team 17
George O'Leary, Head Football Coach, University of Central Florida
6 Teamwork and Spaceflight—An Evolving Relationship 22
Daniel W. Tani, Astronaut, NASA
Part 2: Th e Organization and Its Influence 25
1 Silent Killers of Team Performance: How Honest, Collective, and Public Conversations Can Overcome Them 27
Michael Beer, Harvard Business School and TruePoint
2 How Organizational Process Maturity Improved Software Team Performance 48
Bill Curtis, CAST Software
3 Leading a Team to a Major Technological Development 85
Kazem Rassouli, University of Toronto, Rotman School of Management
Part 3: The Team Leaders 119
4 Building Great Leadership Teams for Complex Problems 121
Ruth Wageman, Harvard University
5 Developing High-Impact Teams to Lead Strategic Change 154
Kate Beatty and Roland B. Smith, Center for Creative Leadership
6 Leading Executive Teams: The Good, the Bad, and the Ugly 182
Susan R. Meisinger, Society for Human Resource Management
7 Leading from the Helm: Lessons from America's Cup Sailing Teams 208
Mark A. Clark, American University
Part 4: The Organizational Context 237
8 Virtual Teams: The How To's of Making "Being Virtually There" Successful 239
Debra J. Cohen and Alexander Alonso, Society for Human Resource Management
9 Trust and Conflict at a Distance: How Can I Improve Relational Outcomes in Distributed Work Groups? 268
Jeanne Wilson, The College of William and Mary
10 Teamwork Improvement in Health Care: A Decade of Lessons Learned Every Organization Should Know 298
Sandra A. Almeida, MD, LLC, Healthcare Consulting, Heidi King, TRICARE Management Activity, and
Mary L. Salisbury, The Cedar Institute, Inc.
11 Why Teamwork Matters: Enabling Health Care Team Effectiveness for the Delivery of High-Quality Patient Care 331
Joanne Lyubovnikova, Aston University, and Michael A. West, Lancaster University
12 Rethinking Team Diversity Management: Evidence-Based Strategies for Coping with Diversity Threats 373
Mirko Antino, Universidad Complutense de Madrid, Ramón Rico, Universidad AutonOma de Madrid,
Miriam Sánchez-Manzanares, Universidad Carlos III de Madrid, and Dora C. Lau, Chinese University of
Hong Kong
13 High Performance in Temporally Separated Team Work 406
J. Alberto Espinosa, Kogod School of Business, American University
Part 5: Th e Assessments, Applications, and Interventions for Teams 439
14 Designing, Delivering, and Evaluating Team Training in Organizations: Principles That Work 441
Megan E. Gregory, Jennifer Feitosa, Tripp Driskell, and Eduardo Salas, Department of Psychology,
Institute for Simulation and Training, University of Central Florida, and William Brandon Vessey, EASI/Wyle, NASA Johnson Space Center
15 Conducting Team Debriefings That Work: Lessons from Research and Practice 488
Scott I. Tannenbaum, Rebecca L. Beard, and Christopher P. Cerasoli, Group for Organizational Effectiveness, Inc.
16 Achieving Optimal Team Composition for Success 520
John E. Mathieu, University of Connecticut, Scott I. Tannenbaum, Jamie S. Donsbach, and George M. Alliger, Group for Organizational Effectiveness, Inc.
17 How, When, and Why You Should Measure Team Performance 552
Kimberly A. Smith-Jentsch, Mary Jane Sierra, and Christopher William Wiese, University of
Central Florida
18 Team Time Management: Psychological Insights for Timely Project Performance 581
Josette M.P. Gevers and Christel G. Rutte, Einhoven University of Technology, Netherlands
19 Five Simple Processes That Improve High-Risk Team Effectiveness 609
Michaela Kolbe, ETH Zurich, Switzerland
Part 6: Summary 645
20 Enhancing the Practice of Teamwork in Organizations: Emerging Themes 647
Stephanie Zajac and Eduardo Salas, University of Central Florida
Name Index 661
Subject Index 680