Diamond Jim Brady : Prince of the Gilded Age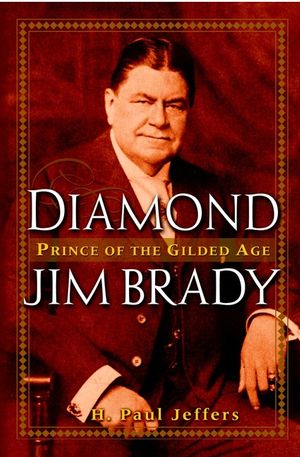 Diamond Jim Brady : Prince of the Gilded Age
ISBN: 978-0-471-22602-4 July 2002 368 Pages
Description
Praise for H. Paul Jeffers

An Honest President: The Life and Presidencies of GroverCleveland
"A well-written and timely book that reminds us of GroverCleveland?s courage, commitment, and honesty at a time when thesequalities seem so lacking in so much of American politics." ?JamesMacGregor Burns, winner of the Pulitzer Prize and the National BookAward

Colonel Roosevelt: Theodore Roosevelt Goes to War, 1879-1898
"A handsome narrative of a crucial period in the career of one ofour country?s most colorful politicians." ?Publishers Weekly

Commissioner Roosevelt: The Story of Theodore Roosevelt and the NewYork City Police, 1895-1897
"A lively, entertaining, and well-researched portrait of a zealousreformer during the historic crusade that successfully launched hiscareer in government." ?Publishers Weekly
Table of contents
Introduction: Table for One, Dinner for Twenty-five.

Make Them Like You.

The American Beauty.

Mr. First Nighter.

"Nell, I'm Rich!"

Ain't It Grand?

The Earth for Fifty Cents.

Sidewalks of New York.

Big Wheeler-Dealer.

I Can Always Start Over.

Rogues, Rascals, and Railroaders.

The Girl's a Lady.

"This Is Where I Live."

"Have You Got the Sauce?"

Farmer Jim.

Off to the Races.

Peacocks Parade.

"Oh, My Poor Jim."

"Why Spoil a Beautiful Friendship?"

"Big, Genial Diamond Jim Brady."

Notes and Sources.

Bibliography.

Index.
Reviews
The story of an industrial giant of the Gilded Age who looms tallover the colorless tycoons of today, H. Paul Jeffers's rollickingaccount of the life and times of "Diamond" Jim Brady is one of themost entertaining historical business narratives in recent memory.Born in 1856 into an Irish immigrant family who ran a saloon on theLower East side, Jim Brady had an early hunger for just abouteverything and the wherewithal to get it. At age 11, he went towork as a bellhop at the St. James Hotel, where the "genial,roly-poly blue-eyed Irish youth" quickly ingratiated himself withthe hotel's visitors and promptly spent his ample tips on food. Afrequent guest, John Toucey, who worked for Cornelius Vanderbilt'srailroad empire, hired Brady at age 15; soon Brady worked his wayup to railroad equipment salesman, encountering precious few whocold not be won over by his twinkle-eyed merriment, awesomegenerosity and garangtuan appetite for food. At a time when Americawas bursting at the seams with industrial expansion and new-foundwealth, his expense reports were the stuff of legend; he celebratedeach big sale by buying himself the best and gaudiest clothes andjewelry. But for all his larger-than-life boorishness, the man whoemerges here is surprisingly cultured. For more than three decades,he never missed a Broadway opening; theater producers could tellwhere plays needed work simply by watching Jim's reaction in thefront row. While Jeffers sometimes skimps on detailing how Jimamassed his fortunes--it isn't until late in the book we get a goodaccounting of his sales practices--the story of this symbol ofAmerica's Gilded Age is filled with such gusto and vigor that evenhardcore business readers will be swept away. (Publishers Weekly,August 20, 2001)

Even if many Americans are not familiar with the story of DiamondJim Brady, very likely the name still rings a bell. Prolific authorJeffers (e.g., An Honest President; Sal Mineo) fully develops thissuperb historical biography of one or more of the colorfulcharacters in American history. Brady's story is a classic HoratioAlger tale of determined success. From his Irish immigrant roots inlower Manhattan, he eventually became renowned for his colossaleating, massive girth, and signature jewelry. Jeffer's spiritedwriting brings to life Brady's youth, his earl hard-working daysbellhopping and selling railroad supplies during America's greatrail expansion, his long-term relationship with Lillian Russell,and of course, those countless 14-course meals. Jeffers deftlyweaves together intriguing stage-setting explanations of the age ofthe robber barons, the crash of 1893, and that unforgettable era ofunbridled wealth for the few in 1890s New York. As this marvelousstory reveals, Brady's lavish lifestyle embodies America's GildedAge. Highly recommended for all libraries. -Dale Farris, Groves, TX(Library Journal, September 1, 2001)