Digital Human: The Fourth Revolution of Humanity Includes Everyone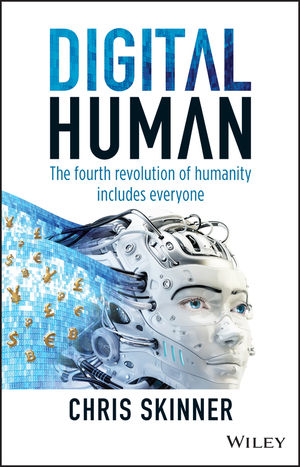 Digital Human: The Fourth Revolution of Humanity Includes Everyone
ISBN: 978-1-119-51185-4
May 2018
328 pages
Description
Digital is far-reaching and ubiquitous - everything you know is about to change.
We are living in the fourth age of humanity. First, we became human. Then we became civilized. The third age saw the creation of commerce. Now, we are becoming digital. Technology has changed the way we communicate, trade, and transact, with repercussions extending far beyond our personal spheres.
Digital Human is a visionary roadmap for the future, a timely guide on how to navigate the world of finance as we create the next generation of humanity. It explores the digital evolution's impact and offers clear insights on thriving in this new era. Human and business relationships are evolving, and existing businesses must undergo substantial transformative changes to compete with the smaller, "lighter," and more agile companies that are able to quickly maneuver to match shifting consumer demands. A lack of online presence has become unthinkable, as consumer preferences continue to trend heavily toward online business and transactions—is your company equipped to thrive in this new era?
While there is no definitive guide to this new reality, this insightful resource provides the starting point and roadmap to digital success in the financial services arena, covering aspects such as:
Digital is not merely a "bolting on" of technology to produce results faster and cheaper, but a complete rethinking of common business practices and notions of efficiency and customer engagement
Rethinking business starts with the customer - new business models are constructed entirely around this single, guiding principle
A digital business model is all about connectivity, with front-office apps tied in to both back-office analytics and marketplaces with many players and segments
Businesses must open their operations to this marketplace of players through APIs, necessitating a conversion of many core systems
Central business and technology systems must change to adapt to new market entrants and new technologies that range from AI for back-office analytics to Distributed Ledger Technology (DLT) for global operations
Leaders must rethink their businesses to be fit for the future digital age, and this comprehensive resource shines a spotlight on the key elements to this transformation.
Introduction 12
The Revolutions of Humanity: Digital Humans 17
The Evolution of the Digital Age 34
The Rise of Platforms and Marketplaces 58
The Rise of the Robots 95
The Rise of a New Financial Structure (FinTech) 126
The Rise of Everyone 152
The Fall of Banks 184
A Glimpse of the Future 209
Closing Thoughts 228
CASE STUDY: ANT FINANCIAL
Ant Financial—The First Financial Firm for the Digital Human Age 234
The Ant Interviews: 277
Ni Xingjun, Vice-head of Alipay 278
Li Jin, Senior Director and Head of the Technology Team 287
Jia Hang, Senior Director, International Business Unit 295
Vijay Shekhar Sharma, CEO and Founder of Paytm 304
Chen Long, Chief Strategist, Ant Financial 313
About the Author 326
"Skinner presents a compelling vision of the future of financial services, expertly set in 10,000 years of historical context."
—Jesse McWaters, World Economic Forum
"I greatly enjoyed this rare and refreshing optimistic vision."
—Kosta Peric, Bill & Melinda Gates Foundation
"Chris' latest book is a tour-de-force."
—Piyush Gupta, DBS Bank
"A fireside chat… one-on-one conversation… Chris Skinner has the remarkable ability to distil complex issues to their simplest form."
—Wayne Brown, The Walker Group
"Digital Human will feel like a SoulCycle kick-your-butt spin class."
—Mary Wisniewski, American Banker
"Digital Human is yet another must-read book from Chris Skinner."
—Dan Dickinson, Equitable Bank
"Chris has a sharp eye for industry trends and cuts through a lot of noise with actionable insights."
—Kim Fournais, Saxo Bank
"the book is a tour de force of informed, timely on the money observations about where things are going, and if it will be TechFin or Fintech that rules the day."
—Irish Tech News, May 2018
"offers a timely exploration of this at once exciting and frightening topic, with some compelling arguments from a writer who manages to wrestle some complex issues, cutting through the jargon and noise to offer an optimistic vision of the future for the 'digital human'."
—Continuity, Insurance & Risk, May 2018
"One of the most authoritative voices on FinTech anywhere"
—Seth Wheeler, Brookings Guest Scholar and Former Special Assistant to the President for Economic Policy at the White House
"Top 40 Most Influential People in FinTech"
—Wall Street Journal's Financial News
"FinTech Titan"
—Next Bank
"Game Changer of the Year"
"Financial Markets Advisor of the Year"
—Finance Monthly
"CEO of the Year"
—CV Magazine
"FinTech Speaker of the Year"
—TMT Global


"…thanks to Skinner's methodical approach and conversational style, at no point did I feel the slight tickle of my head beginning to explode, despite the enormity of the theories being proposed."
—Fintech Finance
"I found this book to be fascinating. It was a really unusual blend of history, technology and finance that I don't think you would find anywhere else."
—BCS: The Chartered Institute for IT