Digital Media Ethics, 2nd Edition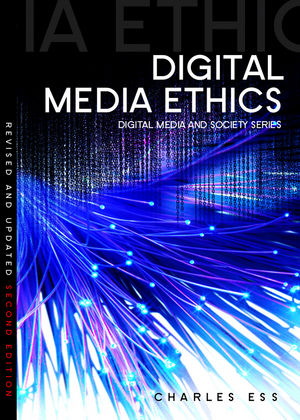 Digital Media Ethics, 2nd Edition
ISBN: 978-0-745-65606-9 October 2013 Polity 280 Pages
Description
The original edition of this accessible and interdisciplinary textbook was the first to consider the ethical issues of digital media from a global perspective, introducing ethical theories from multiple cultures.

This second edition has been thoroughly updated to cover current research and scholarship, and recent developments and technological changes. It also benefits from extensively updated case-studies and pedagogical material, including examples of "watershed" events such as privacy policy developments on Facebook and Google+ in relation to ongoing changes in privacy law in the US, the EU, and Asia.

New for the second edition is a section on "citizen journalism" and its implications for traditional journalistic ethics. With a significantly updated section on the "ethical toolkit," this book also introduces students to prevailing ethical theories and illustrates how they are applied to central issues such as privacy, copyright, pornography and violence, and the ethics of cross-cultural communication online.

Digital Media Ethics is student- and classroom-friendly: each topic and theory is interwoven throughout the volume with detailed sets of questions, additional resources, and suggestions for further research and writing. Together, these enable readers to foster careful reflection upon, writing about, and discussion of these issues and their possible resolutions.
Contents
Foreword by Luciano Floridi
Preface: Why This Book?
Acknowledgements
Chapter Synopses
1. Central Issues in the Ethics of Digital Media
2. Privacy in the Electronic Global Metropolis?
3. Copying and Distributing via Digital Media: Copyright, Copyleft, Global Perspectives
4. Friendship, Democracy and Citizen Journalism
5. Still More Ethical Issues: Digital Sex and Games
6. Digital Media Ethics: Overview, Frameworks, Resources
Glossary
References
Index
This new edition refreshes and updates the many examples used to illuminate this introduction to a quickly changing field, bringing it fully up-to-date with the latest scholarship and research; revises the fourth chapter, incorporating new material on citizen journalism, which considers its implications for traditional journalism ethics; updates the case-studies used, e.g. to introduce and explain the phenomenon of cyberbullying; and new sections address recent 'watershed' events in the field, e.g. with privacy policy developments in Facebook and Google+, and changes to privacy legislation in the US, EU and Asia.
"This book is an important contribution to the field of digital ethics. It is clearly written and cleverly argued in a manner that is very accessible to the reader... Ess does an excellent job of enabling reflection and discussion about the key considerations of digital media ethics. As such this book will prove invaluable to both students and teachers, and anyone wishing to learn more about this subject."
Information, Communication and Society

"Charles Ess's revised edition of Digital Media Ethics is a thorough and approachable introduction to an area of ethics that is increasingly important as the information age accelerates into a new era of globalization. Ess's sensitivity to cultural awareness and difference makes this an important contribution: I highly recommend it for the classroom and generally curious readers alike."
Anthony Beavers, University of Evansville, and president of the International Association for Computing and Philosophy

"I highly recommend this book for school and university courses on Information Ethics around the world. Clearly written, it opens vistas for intercultural dialogue on ethical issues of the cyberworld."
Rafael Capurro, International Center for Information Ethics

"Internet researchers and teachers will be thrilled with this revised edition of the deservedly popular Digital Media Ethics. Ess combines philosophical sophistication with clarity of exposition, addressing a wide range of topics. Thoroughly updated with many up-to-the-minute examples, it is a wonderful resource for teachers, students, and anyone who cares about ethical issues brought about by the digital age."
Alison Adam, Sheffield Hallam University
New edition of the first textbook on the central ethical issues of digital media, ranging from privacy and copyright, to pornography and privacy.
Uses a wealth of contemporary issues and illustrations to engage readers with recognisable ethical dilemmas.
Employs pedagogical resources interactively throughout the text, all of which are completely integrated into the discussion.
Written by one of the leading scholars in the field.